Creators of online assignments have a lot to do. When handling everything from emailing back and forth with students, grading projects, writing material, and maintaining a website, schedules may quickly take time and effort. Many capabilities in the LearnDash LMS are available to developers and students to supercharge workflow and help them in their assignments. LearnDash add-ons assist you in further optimizing your e-learning platform by streamlining LMS management activities, enhancing assignment material, and ultimately saving time.
In this article, we'll look at a selection of LearnDash LMS add-ons that supercharge workflow and facilitate time liberation for developers and students.
Crucial LearnDash Assignments Add-ons that Will Enhance Workflow for Students
Here are some considerable add-ons that supercharge the LearnDash assignment workflow for students.
1. Notes Add-On
The LearnDash Notes add-on allows students to take notes. It facilitates note-taking and enables instructor communication during a student's study period when necessary. It allows students to communicate with lecturers more effectively and assists them in taking notes. The following list includes some of LearnDash Notes' key attributes:
Mobile responsive
Save your notes as a Word document.
You can print notes.
suitable with practically any theme for WordPress
Adaptable color schemes
2. Notes for LearnDash by snapORBITAL
Happy learners are successful learners. Providing users with native, on-site note-taking functionality will improve how well they remember the information and increase their success chances.
Students will adore the visually appealing and user-friendly notepad interface because it was created with the utmost attention to detail.
Notes for LearnDash by snapORBITAL Improve mobile learning with a notebook compatible with tablets, smartphones, and more! Students can take their notes with them by downloading their messages into Microsoft Word documents.
Any content inside and outside of LearnDash can have note-taking enabled. Any theme can be used with this design. Students can make color choices to ensure they follow their identity.
3. LearnDash Assignments Deadlines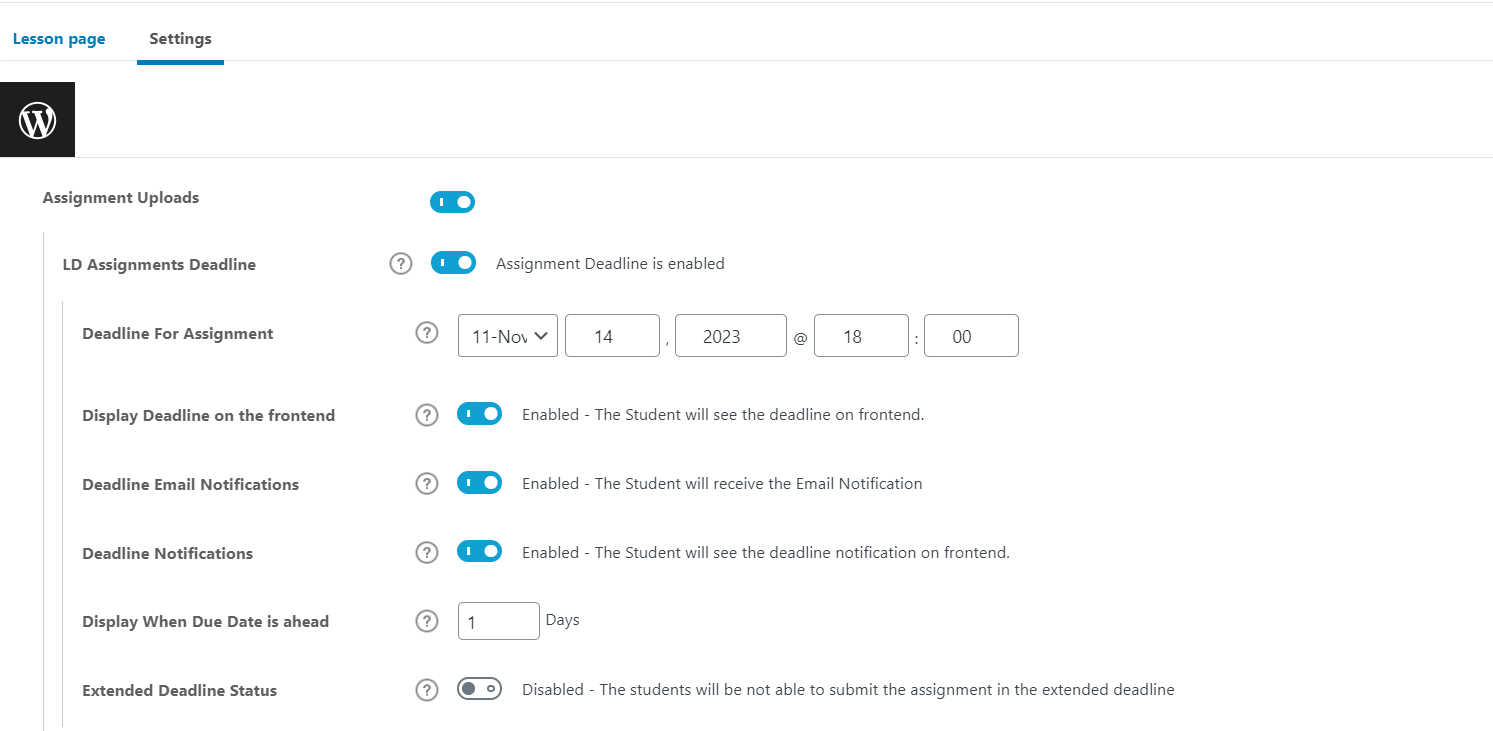 In traditional and online classroom settings, deadlines are tremendously helpful for students. Preventing students from delaying work until the end of the Assignment increases productivity. Setting deadlines can assist your pupils' work ethics and time management skills.
The new LearnDash Assignments Deadline add-on can assist you in implementing deadlines for student submissions if assignments are a component of your LearnDash courses. LearnDash Assignments Deadlines add-on can specify due dates for any lesson or topic assignment and alert students when something is approaching its deadline.
Placing the due date over the assignment upload box on the front end can quickly let students know when their task is scheduled. LearnDash add-on shows on-page notifications to alert students about impending assignment deadlines. It specifies the number of days before each assignment the admin wishes the message to appear.
Set notifications for straightforward assignments one or two days before the due date. Configure notifications to appear five days in advance or more for tasks that will take more time to complete.
4. LearnDash Audio Assignment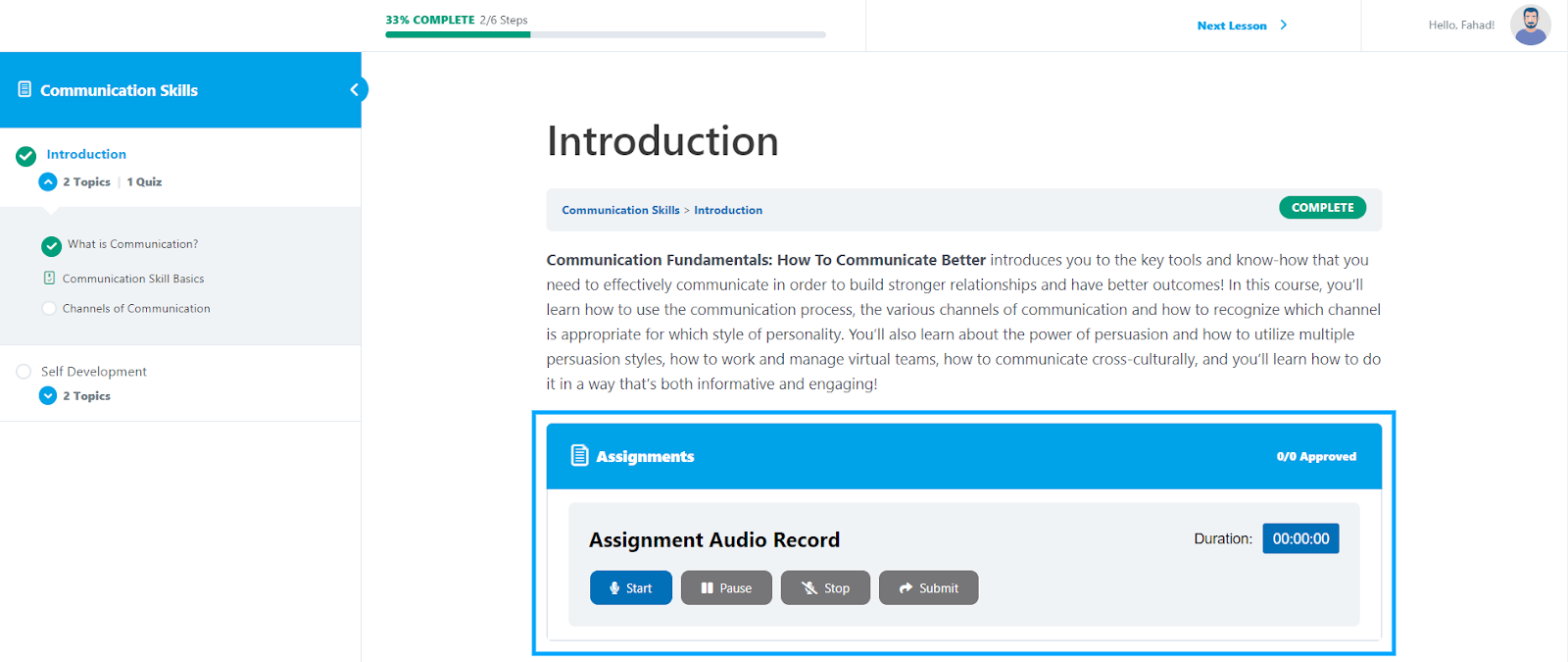 It can Immerse pupils in learning activities like never before! Students can record and submit audio as part of their assignment submissions with the LearnDash Audio Assignments add-on. Students can register their comments on the website and download the audio recordings they create.
Conveniently setting a specified time restriction for each audio assignment submission will improve the handling of audio assignment submissions within LearnDash. Students can easily download and return to their audio file recordings after recording and completing their assignments. Particular learning modalities, like language and musical education, heavily rely on audio. Audio uploads will let language, music, and other relevant teachers assess students' development precisely.
Assignments will be more interesting if students can interact with teachers and assignment material through learning activities. One of the benefits of this platform is that students can communicate with their lecturers and classmates via audio recordings. From the modified assignment page, the administrator can listen to the audio files students have submitted and, if necessary, directly respond by leaving a voicemail.
Crucial Add-ons that Will Enhance LearnDash Assignments Workflow for Admins
Here are some crucial add-ons for developers/ course creators/admins.
1. LearnDash Development Reset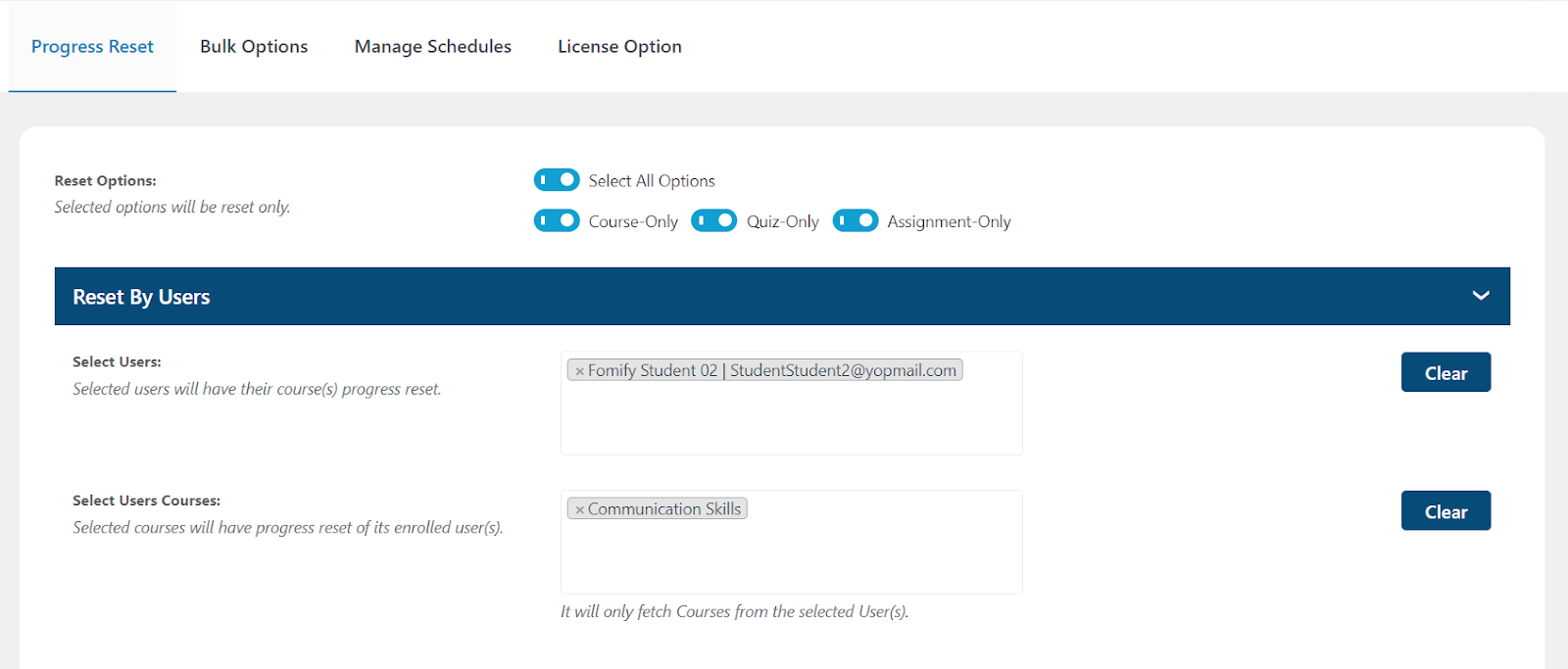 Developers can also reset their progress when students fail an assignment or assessment. The admin can give them another chance to finish the assignment and receive certification by resetting their progress. It will allow them to go over and finish the material once more.
After an assignment, the developer can decide to reset students' progress. LearnDash Development Reset allows users who paid for the assignment to change the assignment material even after the assignment has concluded and they have completed it. Students should practice more and ask to retake the assignment to be sure they understand it.
It is time-consuming and tiresome to manually create new users for former students, re-enroll them in the assignment, and then reset progress. With the LearnDash Progress Reset add-on, progress can be reset quickly and easily. Developers can use the plugin to clear the progress of one or more users and assignments. Additionally, developer can immediately reset the gain for a particular LearnDash group.
2. Assignment Pro
To improve your assignment experience, Assignments Pro enhances your LearnDash platform with strong submission, tutor-grading, and feedback capabilities. Giving your students assignments to complete has been shown to increase the effectiveness of your online classes. When instructors give thorough feedback, it improves knowledge, helps with memory retention, and gives the learning process a more individualized feel.
They have combined their technological know-how with our expertise in education to produce a potent plugin that adds assignment capabilities that LearnDash administrators, course instructors, and students will all adore. The assignment creation process is improved by Assignments Pro, which also provides tools to make organizing and grading assignment submissions simple.
Teachers can upload multiple feedback files and write written comments on student responses using Assignments Pro. When a developer wants to analyze an uploaded learner assignment and give it back to the student with annotated and thorough feedback, this is ideal.
3. Front End LearnDash Assignment Management
Group Leaders now have a simple method for managing uploaded LearnDash assignments in the front end thanks to the Uncanny LearnDash Groups plugin's version 3.0. As a result, Group Leaders no longer need to request access to the /wp-admin/ directory. Use the shortcode to add front-end essay question management to a page on your website. These shortcodes enable Group Leaders to:
· Download and look at assignments made by group members and instantly access the lesson, course, or comments that go with them.
· Accept and award points for assignments that users in their group have submitted.
· Sort assignments based on the group, subject, lesson, and approval status.
· Utilize the Search field to filter entries based on information in any column.
· Assignment submissions by any column.
· View and hide the columns that are pertinent to them.
· Rearrange columns by dragging and dropping.
· Drag to adjust column size.
4. The LearnDash ProPanel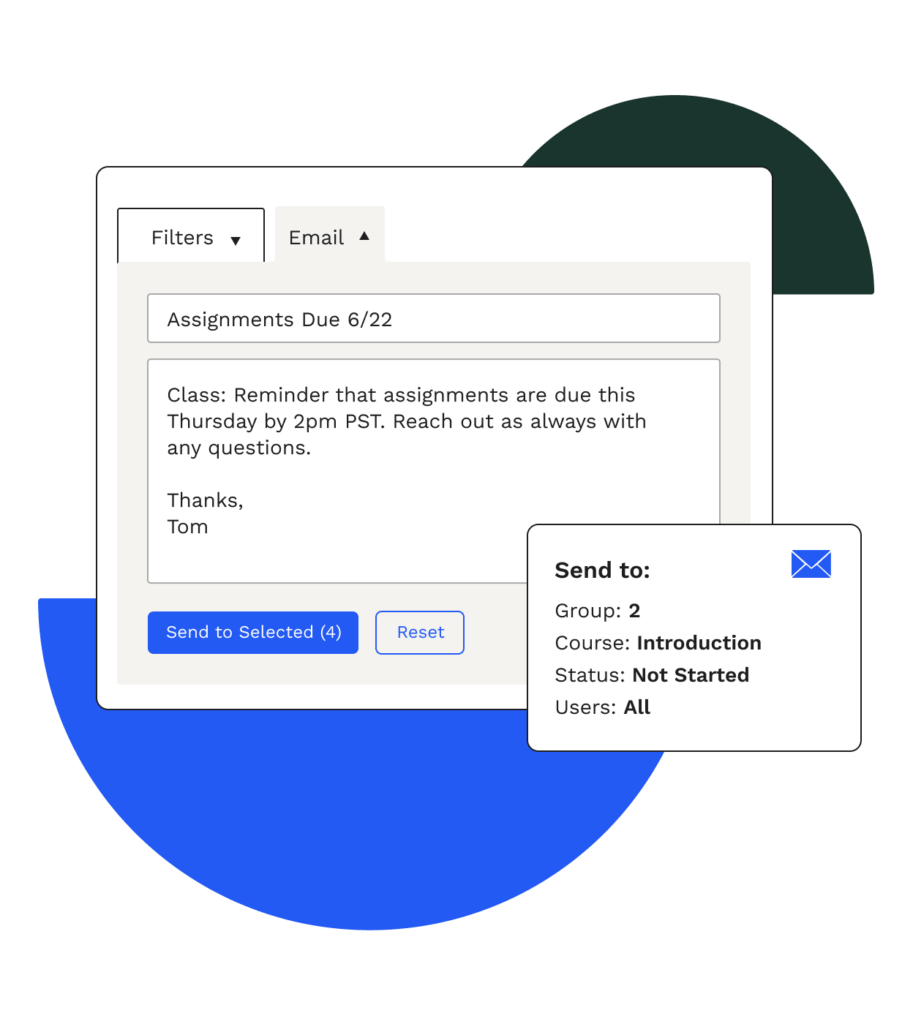 LearnDash LMS's Plus and Pro editions come with ProPanel, a reporting improvement. It improves the LearnDash admin experience by enabling them to send emails, display real-time course activity by combining reporting, and manage assignments.
Developers can monitor student activity in real time as they engage with LearnDash assignments using the ProPanel. It gives an overview of the student's progress for each assignment they have registered for by displaying a progress chart.
Developers can access the ProPanel, where they may manage, approve, and remove all assignments and essays. Additionally, it enables admins to examine and download each user's course progress and exam results.
Manage Assignments in LearnDash
Any submitted assignment may be rejected using the LearnDash Manage Assignments feature. The add-on allows students to resubmit their assignments and immediately tells them when their assignment is denied.
Admin can reject student submissions and ask them to finish the Assignment again if their work isn't up to course standards or doesn't meet the requirements. When an assignment is rejected, students will be informed upfront in the assignment area of the related lesson or topic page.
Resubmitting their Assignment via the button on the associated lesson or topic page gives students who had their submissions for an assignment denied the chance to make up the course work.
Supercharge your LearnDash course workflow with the LearnDash Experts at TeknoFlair! Discover the top add-ons for creating assignments, grading work, tracking progress, and more.
People Also Ask
How can I include a task in LearnDash?
Go to LEARNDASH LMS > LESSONS to find lessons.
To enable assignment uploads for a lesson, click on it.
On the Settings tab, click.
Enable the Assignment Uploads setting in Display & Content Options.
Has the group leader/site administrator access to the user notes?
Yes. You will see all user notes as the site administrator. Only group members' notes will be visible to group leaders.
Are notes preserved so that users can access them later?
Yes! Your users can view and save notes. Use the two shortcodes offered to display the user's notes on each lesson or topic individually or their whole note history.
How do I put ProPanel together?
Install ProPanel via the Plugins menu from the WordPress dashboard if you use the LearnDash plugin. You only need to activate it to be ready.
How can I set up ProPanel?
Install ProPanel via the WordPress dashboard's Plugins menu if you use the LearnDash plugin. ProPanel is pre-installed as part of your LearnDash Cloud subscription if you're a user.
How can I include a task in a module?
Once you've created a module, click the plus sign (+) next to the module's name. Ensure Assignment is selected in the pop-up's top drop-down menu before continuing. Pick [Create Assignment] from the drop-down menu's box below. Give this new Assignment a name.
Do LearnDash and Elementor integrate well?
You can quickly build dynamic LearnDash content in Elementor with the help of the integration, and it even works with their global template choices.
How does the LearnDash plugin work?
Converting your WordPress website into an effective Learning Management System (LMS) is made possible with LearnDash. Anyone can easily create, sell, and manage online courses with LearnDash – the ultimate WordPress LMS plugin.
Is LearnDash available without WordPress?
Yes, LearnDash is a WordPress LMS plugin, so for LearnDash to function, you must install WordPress.
I am a professional copywriter helping businesses transform into brands using creative wordsmithery with a dash of rhetoric and creativity.