Famous quotes by Poets or Blockbuster movies have become very popular in the hearts of Millennials as these quotes hold special meaning for them. Some people cherish them by getting a tattoo while others prefer getting a print of it on their T-shirts, mugs or phone covers. From this obsession comes the mammoth business of Print on Demand.
Previously many artists who created a design or a piece of art would display it in an art show or sell it to the highest bidder. But now they can share their art with the greater audience by simply printing it on any product of their choice and market it. The advanced technology has made Print on demand more simple and easy to use and understand.
Print on Demand is a process by which a product is not printed until the entrepreneur receives an order. POD services have made this process very easy, as they do all the work from printing, packing, and shipping while, entrepreneurs only have to focus on the design of the product.
When a customer orders a T-shirt, mug, handbag, etc at that  very moment the design is printed on the desired product and shipped to the customer. There are many websites which provide POD services like Zazzle , Redbubble, Printful.
The most entrepreneur-friendly and popular website for print on demand is Printful. It helps entrepreneurs by printing, packaging, and shipping of the product, while they focus on their online store and the design of the product. Printful helps the entrepreneurs from selecting the material of a product to developing the finished goods.
An entrepreneur can simply choose what they want and Printful will fulfill their desires from the fabric to the size of the product. Printful has a warehousing service as well, where the entrepreneur can send their products to be stored and the merchandise can be shipped when desired. Printful provides its users with many interesting options.
Mockup Generator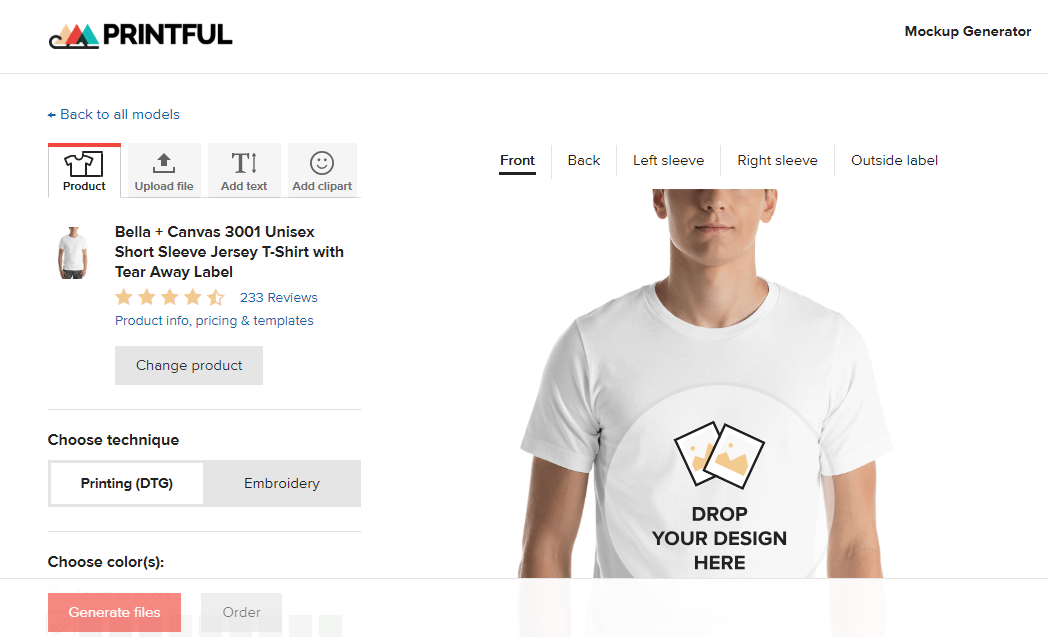 The entrepreneur doesn't have to create their product from scratch in Printful as they provide Mockup Generator. The Generator has a wide range of options for T-shirts, bags and phone cases. From the color to the size of a given product, everything is provided. You simply add your design and your product is ready.
Profit Calculator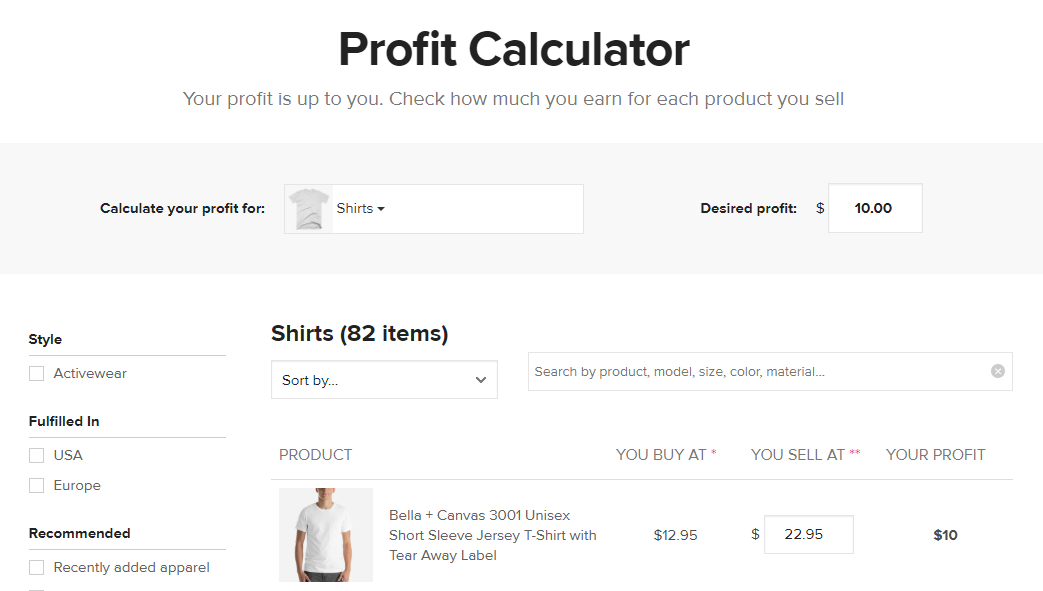 In profit calculator, the entrepreneur can set and calculate their profit on each item. Printful has a rate at which they provide their products to the entrepreneurs. While you can set as much profit as you desire.
Print on Demand is a cost-effective business, where the entrepreneur doesn't have to buy a storage space, printing equipment, or hiring a huge number of employees. Through POD they save money and time with access to a healthy sum of profits.
[Tweet "Direct to Garment #DGT shows significant printing effects as compared to the traditional painting method."]
Direct To Garment Printing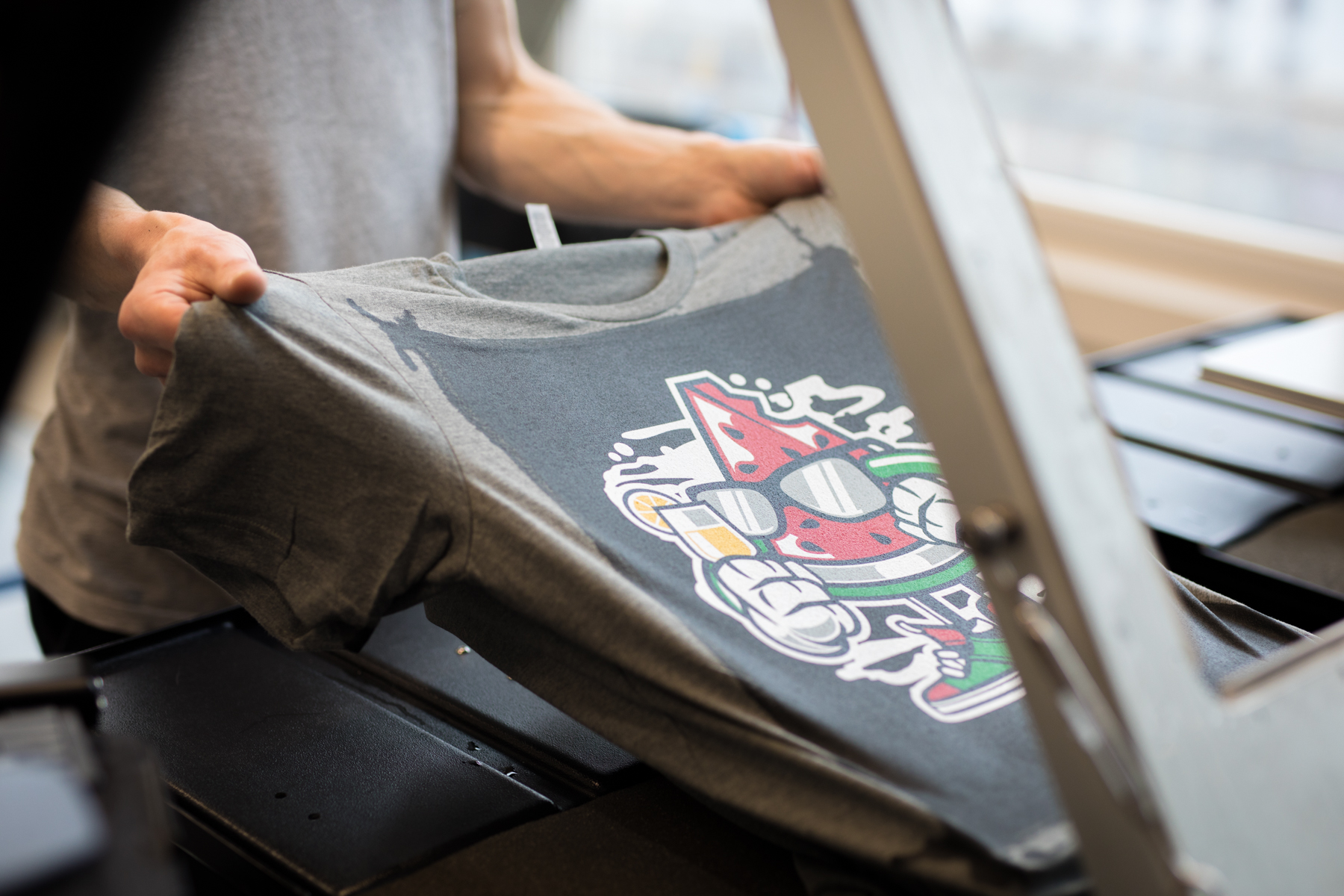 Printful uses direct to garment printing. In DTG a printer directly applies the ink onto the t-shirt using inkjet technology. This process uses water-based inks which are absorbed by the fabrics.
Most customers desire precise shapes and images on their products and DTG is the best solution for their demands
Setting up your E-Commerce Store using WooCommerce
Setting up a Print on Demand business with Printful involves a few simple steps. If you choose to set up your E-commerce store on WordPress you start by adding a WooCommerce plugin.
Businesses Powered by WordPress
WordPress is a great place for startups and small businesses to grow and make a name for themselves. As it is the most simple, easy and effective content management system in the market.   
WordPress Support guides new users about how to use the platform. Their developers market is a place which has thousands of tutorials and suggestions which is beneficial for new users.
Different types of industries are running their businesses on WordPress websites.
The First thing you need to do is buy a web hosting Server. It is basically a space the hosting service provides on their servers to view the website online. Some Web Hosts also provide a domain name as well as a one-click WordPress Install. Some of the Top Web Hosts are as follows.
If you chose a Web host which didn't provide you with WordPress, then you should install WordPress.
As you have followed the previous steps now its time to implement some useful plugins on your WordPress Website. These plugins will help improve a various aspect of your website such as improved performance, better SEO and overall security for your WordPress Website.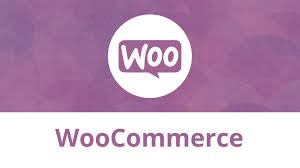 Now it's time to create an online store for your customers to come and shop. First, you have to install the WooCommerce plugin on your WordPress website. Go to the store and install WooCommerce and activate it and your webpage will transform into an online store.
After creating your online store it's time to integrate your Printful account with your WordPress Website. First, you have to update your WooCommerce so that all Printful features work. Then go to setting of WooCommerce, select API and enable it. Now install the Printful Plugin and activate it.
When it is installed you will see Printful on your sidebar. Click it and connect Printful with WooCommerce. After connecting you will see two options, either create a new Printful account or login with existing username password. If you already have one just login. After everything is done you can add your products directly through the plugin.
To create a product for your online store. You simply have to select your design and it will load on the Mockup generator where you can choose size and color variants of the product. There is a long list of items from which you can select and print your design on.
When a product is prepared you click submit to the store, and it will be loaded to your store for all your customers to see.
While in your Printful dashboard you are able to see how many orders have been made and what is your profit. With the quick links provided in the dashboard, you can get direct access to your Printful account.
Promoting your store is the most important aspect of your business because through marketing your store you will get a larger audience and a better chance to convert them into customers. You will have to use different marketing and promotional tools for your online store.
Enable Live chat
Leverage Social Media Marketing
Write Blogs to redirect the audience
Use guest posting
For entrepreneurs, there is a lot of noise and it is difficult to stand out among the crowd.
But through Print on Demand services like Printful,  has turned into a convenient and even enjoyable process.
Entrepreneurs create an emotional connection with their customers by sharing their masterpiece with them, as through art you can create a bond which can never be broken.