Adding quizzes to your LMS platform is crucial in confirming that students have understood the material and are prepared to go on to the next course. Many LearnDash add-ons are available for optimizing quizzes and modifying their content to enhance user experience. The top eight LearnDash quiz add-ons to improve your quizzes will be covered in this section.
1. LearnDash Advanced Quizzes
LearnDash Advanced Quiz add-on allows you to define question characteristics, time constraints, and negative markers so that you may design a user-friendly quiz. Beyond the capabilities LearnDash now provides for adding quiz questions, the features go above and beyond. 
Swipe questions let users slide to the right for the correct response and to the left for an incorrect response.
Jumbled sentences let users create a question from a drop-down menu of variables.
Calculated formulas, which let users change an item by variable.
More crucially, you can set time limitations, give students the option to save and resume the quiz and deduct points for incorrect responses using this add-on.
You can even establish various time restrictions depending on each question's difficulty level and topic. The number of times a student pauses and continues a quiz is up to you.
Installation
Set up the "LearnDash LMS" plugin and turn it on.
The LearnDash Advanced Quizzes add-on must be installed and turned on.
The LearnDash LMS menu will include an Advanced Quiz option on the WordPress Dashboard.
Select the License tab by going to LearnDash > Advanced Quiz. After that, type the License Key into the appropriate field.
Advanced Quiz for LearnDash – License
Select Advanced Quizzes from the LearnDash menu on the WordPress dashboard to edit the add-on's settings.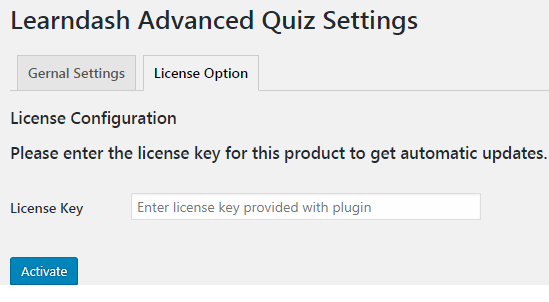 Under the General Settings menu, you may access every setting choice.
Note that the plugin is multilingual.
2. Learndash Quiz Import/Export
Manually creating quizzes in LearnDash can be hard and time-consuming. Utilizing a straightforward spreadsheet template, you may upload quiz questions using our LearnDash Quiz Import/Export add-on. 
The add-on is compatible with all quiz question formats, including essays.
You can import multiple questions and the imported quiz parameters for speedy quiz creation or editing.
Your LearnDash test can also be exported as an XLS document.
Installation
Install and activate the LearnDash LMS plugin.
The LearnDash LMS menu now has a "Quiz Import/ Export" feature.
The main Quiz Import/Export menu's License Settings tab is where the license key can be set up.
When you buy the add-on, license keys will be provided to your email address.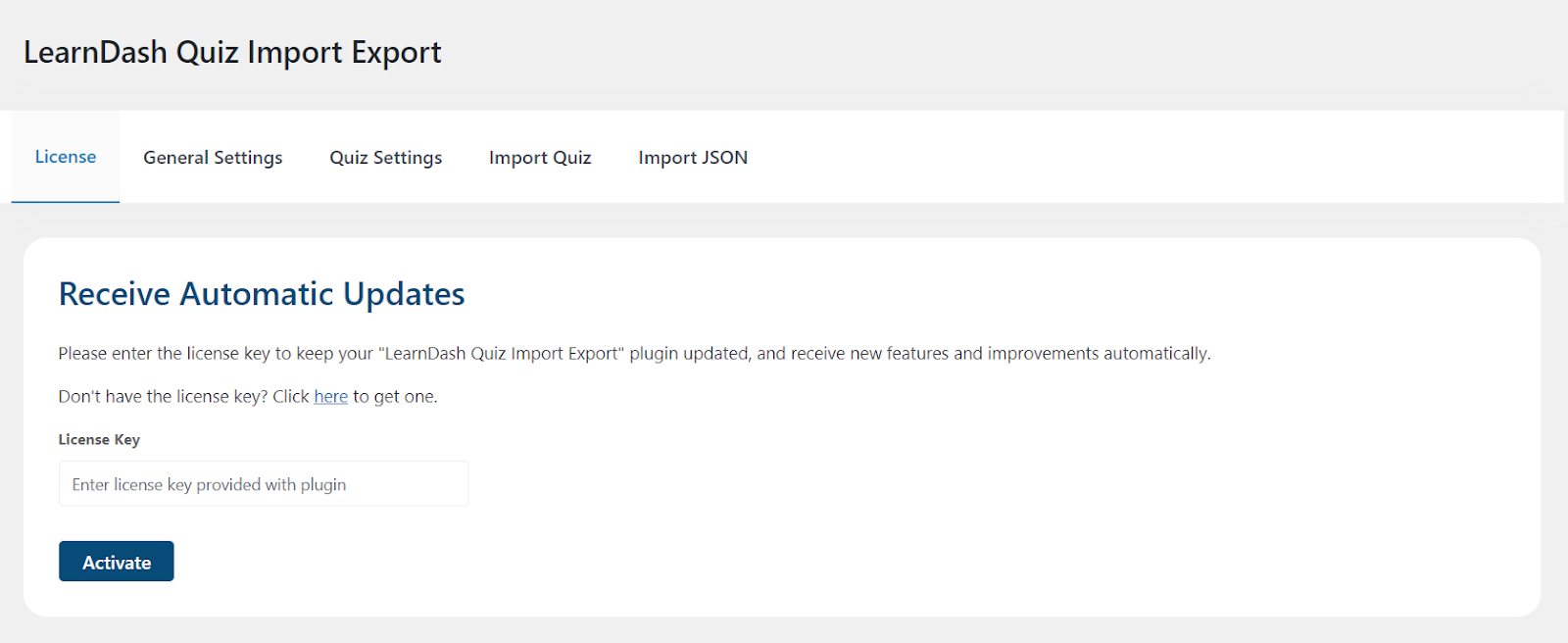 Click on Activate after entering your license key in the appropriate field.
3. Quiz Reporting Extension by WisdmLabs
As the course creators, we are aware of the importance of quick access to statistics and student data. Various options are available When using the Wisdm Quiz reporting feature to create reports for students and quizzes.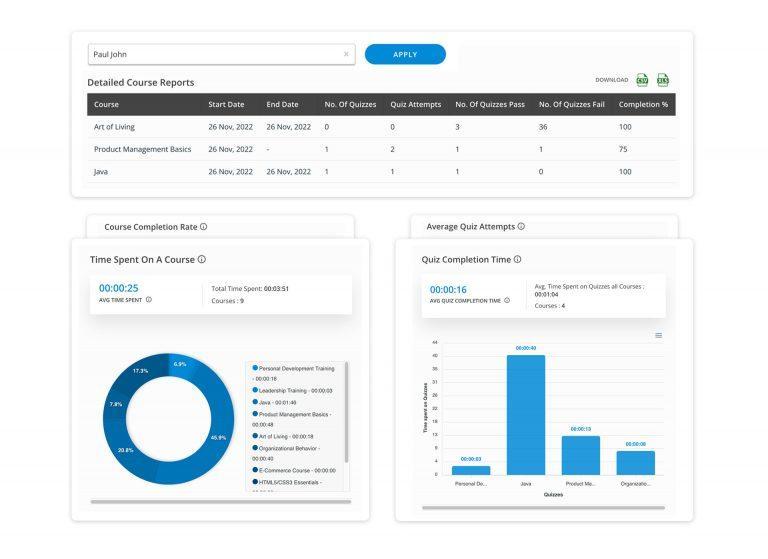 Suppose you have numerous instructors to whom you must grant various editing and administrative rights. In that case, the Wisdom Quiz is a fantastic choice.
You can specify the proportion of commissions that should go to each instructor.
The add-on has user feedback elements, including the capacity for reviews. These testimonials can be utilized to promote your course, which increases credibility.
Installation
Any plugin can be set up in one of two ways: directly from the website dashboard or over an FTP connection.
Directly from the website dashboard
Go to the Admin Dashboard of your website directly from the website dashboard.
Click on Plugins.
Select Add New from the menu.
Press the Upload Plugin button now.
Click Install Now after uploading the zip file.
Using FTP Connection
Unzip the plugin zip file you received using an FTP connection. It ought to create a directory in your system called wisdm-reports-for-learndash (or learndash-reports-pro if you're using the PRO plugin).
To connect to your website, use FTP or SFTP protocols.
Open your server's wp-content/plugins directory.
Upload the plugin's directory's thewisdm-reports-for-learndash (or learndash-reports-pro in the case of the PRO plugin) directory.
Open your website dashboard when the upload process has been completed.
Access the menu for Plugins.
Turn on the FREE or PRO version of the WISDM Reports for the LearnDash plugin.
It is a surefire technique for successfully uploading a plugin, so there shouldn't be any problems.
The PRO plugin will attempt to automatically download and install the free plugin from wordpress.org if the 'WISDM Reports for LearnDash Free' plugin is not installed during the PRO plugin installation.
4. LearnDash Retake Quiz
Making mistakes is an important part of learning. Students gain information and improve their chances of remembering the material when they can spot their weak points and fix their errors.
You may limit how many times students can repeat quizzes using the LearnDash retake Quiz add-on. 
Retakes include the questions that the user erred on during the initial try.
You can also use the very effective spaced repetition technique by requiring students to wait before retaking the quiz.
Installation
Set up the "LearnDash" plugin and turn it on.
The "LearnDash Retake Quiz" add-on should be installed and turned on. 
Retake Quiz, a new sub-menu, will be introduced to the LearnDash LMS menu.
To set the LearnDash Retake Quiz Settings, click "Retake Quiz."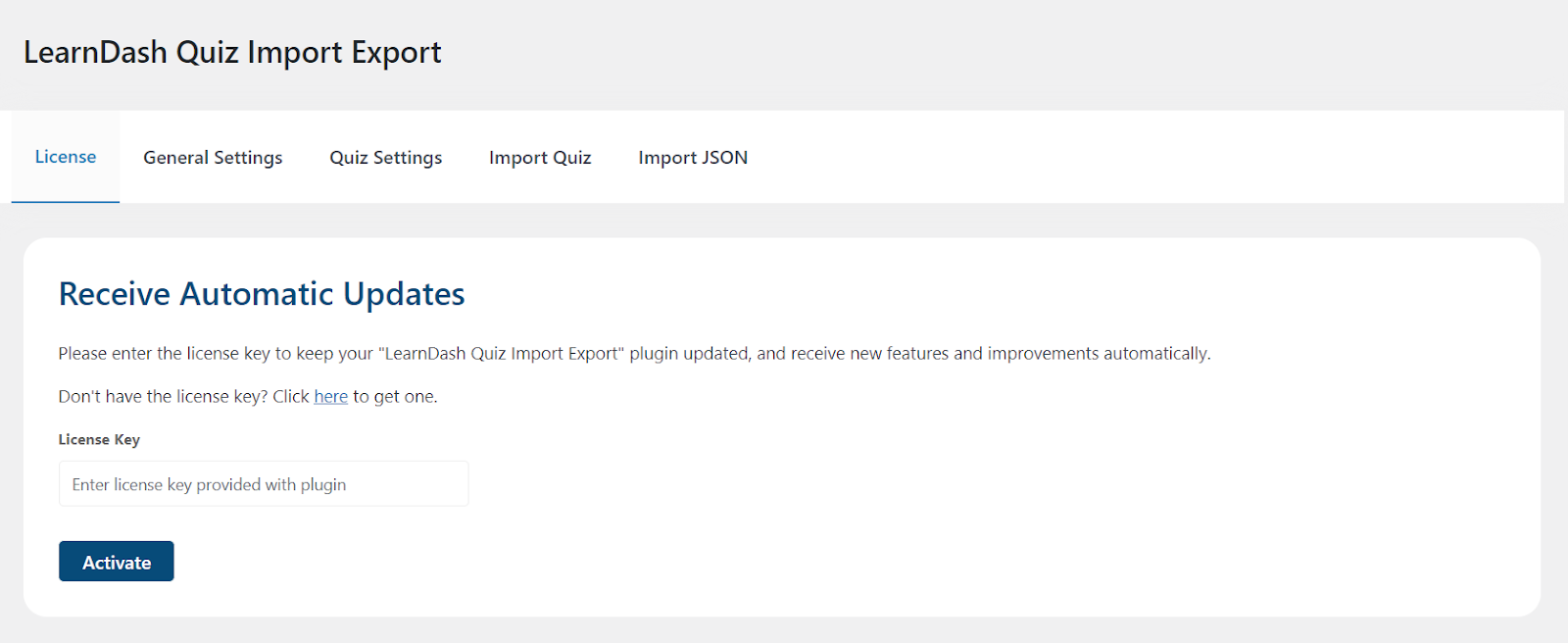 Register the license key under LearnDash > Retake Quiz > License Option. You will receive automatic updates if you register a legitimate license.
5. LearnDash Pay for Quiz/Certificate
Are you looking for an innovative way to monetize your LearnDash website? Selling quiz access is a worthwhile tactic to test out.
You can sell your LearnDash course quizzes and even give your students free tries if you use the LearnDash Pay for Quiz/Certificate add-on. 
The add-on also allows you to monetize by selling quizzes and course certifications.
Installation
Set up the LearnDash LMS plugin and turn it on.
Install and turn on the LearnDash Pay for Quiz/Certificate Add-on.

Under the LearnDash LMS menu on the WP Dashboard, a new sub-menu labeled "Pay for Quiz/Certificate" will be shown.
Purchase A Test/Certificate
Be sure your PayPal business account is correctly set up with LearnDash LMS before you continue configuring this add-on. 
To accomplish this, adhere to the official PayPal settings documentation for LearnDash LMS.
After setting up your PayPal account, go to LearnDash LMS > Pay for Quiz/Certificate to customize this add-on's settings.
License configuration
Go to the License Settings tab to add and activate the product's license key.
The email you received after purchasing the add-on contains the License Key.

Click on Activate after entering your license key in the respective field.
6. Quiz Embed for LearnDash
Looking for a smooth solution to evaluate the knowledge of your students? Look no further than the Quiz Embed plugin and LearnDash quizzes! With this effective combo, you may quickly assess your students' comprehension within the context of your course or topic without coding. 
With the aid of this potent plugin, website designers may now easily incorporate quizzes into lessons and subjects, making the process hassle-free for you and your students.
You can improve the quality of your quizzes using Quiz Embed for LearnDash.
Create quizzes tailored to the subject delivered and use them to assess your understanding before continuing.
The students will like the interactive experience and remain interested in their studies.
For surveys and tests, the Quiz Embed for LearnDash plugin works wonders.
Seamlessly incorporate the quizzes into your lectures or subjects without interfering with learning.
Additionally, creating quizzes is simpler than ever before. Configure your questionnaire after installing and activating the plugin; there you have it!
Installation
It's simple to use the Quiz Embed for LearnDash plugin. 
You may access the LearnDash LMS's Quizzes section without shortcodes, turn on global options, and customize your settings.
Additionally, you can modify the default global settings in each quiz's settings if you need to tailor any particular quizzes.
7. LearnDash QuizMixer Plugin
It can happen that you have written a lot of quiz questions for different courses. So, with our most recent offering, the Learndash Quiz Mixer plugin, you can now make new quizzes using those questions. By fetching the number of questions you choose, which will be chosen at random, this extension plugin for Learndash enables you to build new quizzes and save them under a completely new category.
These resources will improve your course and give fresh ideas for creating exam and quiz materials for your students.
The mixed quiz questions can come from either a quiz set or a quiz category.
The mixed quiz's question order can also be randomized.
Additionally, the instructor may employ a plugin like Admin.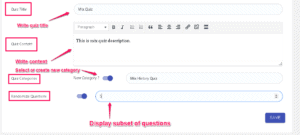 Installation
Do you want to make a new quiz using an existing quiz? Install the Learndash QuizMixer plugin.
It will then give you the choice to choose the quiz by name or category.
Give the new quiz a name and optional description.
Limit the number of quiz questions you want to add to the new test.
Save, that's all.
8. LearnDash Gradebook
Want to give the setting a more classic classroom-like feel? LearnDash Gradebook is a wonderful fit in that situation since it restores the impact of a robust grading and report card system that enables you to manage your students' marks and track their overall development from one location.
You don't have to switch between several tabs to obtain student reports because grades for all your students are available in one place on your dashboard, reducing your effort and saving you a ton of time.
You can manually set grades to students for extracurricular activities like debates, reading assignments, and class participation that are not part of the LearnDash curriculum, enabling you to implement a mechanism for linking these activities to overall student achievement while offering a flexible learning environment.
With this Gradebook, you can automatically pull your students' grades from their LearnDash quizzes and assignments, saving you the time and work of manually compiling grades for each student.
You can customize your grading scale to meet your needs. You may, for instance, utilize letter grades like "A," "A-," or anything else that best suits your purpose.
You may systematically maintain a grade book by putting this into practice.
You can instantly access it through your dashboard without calculating, evaluating, or opening up each student's profile to verify their grades, improving user experience and student management.
Installation
Account.Learndash.com offers the Gradebook Add-on plugin for download. Sign into your account, download Gradebook, and install it by following the directions below.
Installing the grade book:
Navigate to PLUGINS > ADD NEW.
To upload a plugin, click.
Search for and choose the file you downloaded after making a purchase. The file will be in zip format.
Press "Install Now"
Click Plugin Activate.
You must first create one or more grade books to use this plugin. There is the option to personalize each Gradebook.
Visit LEARNDASH LMS > GRADEBOOK
Select Add New from the Manage Gradebooks menu.
Make a title for your grade book.
Choose the courses that you want to include in this grade book.
To add a component, click. Please give it a name and decide how you want it scored.
LearnDash Support Features
Here are various capabilities that can help Plugins to Produce Powerful LearnDash quizzes.
Quiz Leaderboard
Using the quiz leaderboard, you can display user scores to everyone who takes a quiz. Users may see how they compare, which should encourage them to perform well on the quiz and place their names at the top of the scoreboard.
On the leaderboard, click.
Enable the Leaderboards for individual quizzes.
Select LEARNDASH LMS > QUIZZES from the menu.
Select the quiz you want the leaderboard for by clicking it.
On the Settings tab, click.
Go down to the section labeled Administrative and Data Handling Settings.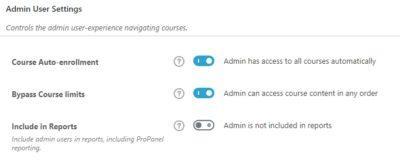 Activate the Leaderboard toggle.
Settings for global quizzes
Select some site-wide preferences that will be applied to all quizzes on your website on the LearnDash quiz settings page. Below are the sections that makeup quiz settings:

You may access your overall quiz settings here:
Select LEARNDASH LMS > QUIZZES from the menu.
Toggle to the Settings tab.
Making a Quiz with Quiz AI Builder
Creating a quiz is simple, but you'll need a course setup because the AI will design the quizzes and answers using the course material.
The steps are as follows: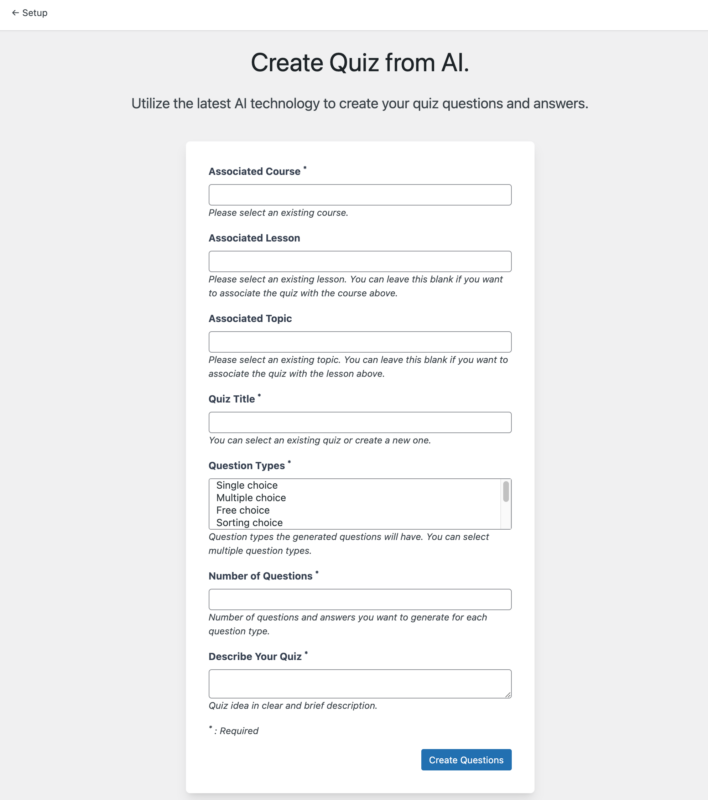 Enter the course you want to add the quiz to under "Associated Course" (optional). Using the Associated Lesson/Topic inputs, you may link the quiz to a particular lesson or topic from the preceding course.
Choose the question types you want to include in the quiz. You can select multiple question types by holding the Ctrl or Shift key.
Set the number of questions you want to produce for each quiz question type you choose. Remember that if you choose two question kinds and set this number to 6, you will receive 12 questions.
Describe the quiz briefly so AI can provide relevant questions and answers.
"How to make money selling an online course using LearnDash" could be an example description.
Select "Create Questions" from the menu. The quiz will now run through and provide the questions and answers. A notification will be displayed at the page's top if the task is completed successfully.
Quiz Custom Fields
You may add unlimited quiz questions and even ask users for specific information before or after they take the test. This post will outline where to access custom quiz fields and how to set them up.
Note: For each quiz the Custom fields are set separately. They are not global settings.
Switch on custom fields.
Select LEARNDASH LMS > QUIZZES from the menu.
Click the quiz you want to change.
On the Settings tab, click.
Go down to the section labeled Administrative and Data Handling Settings.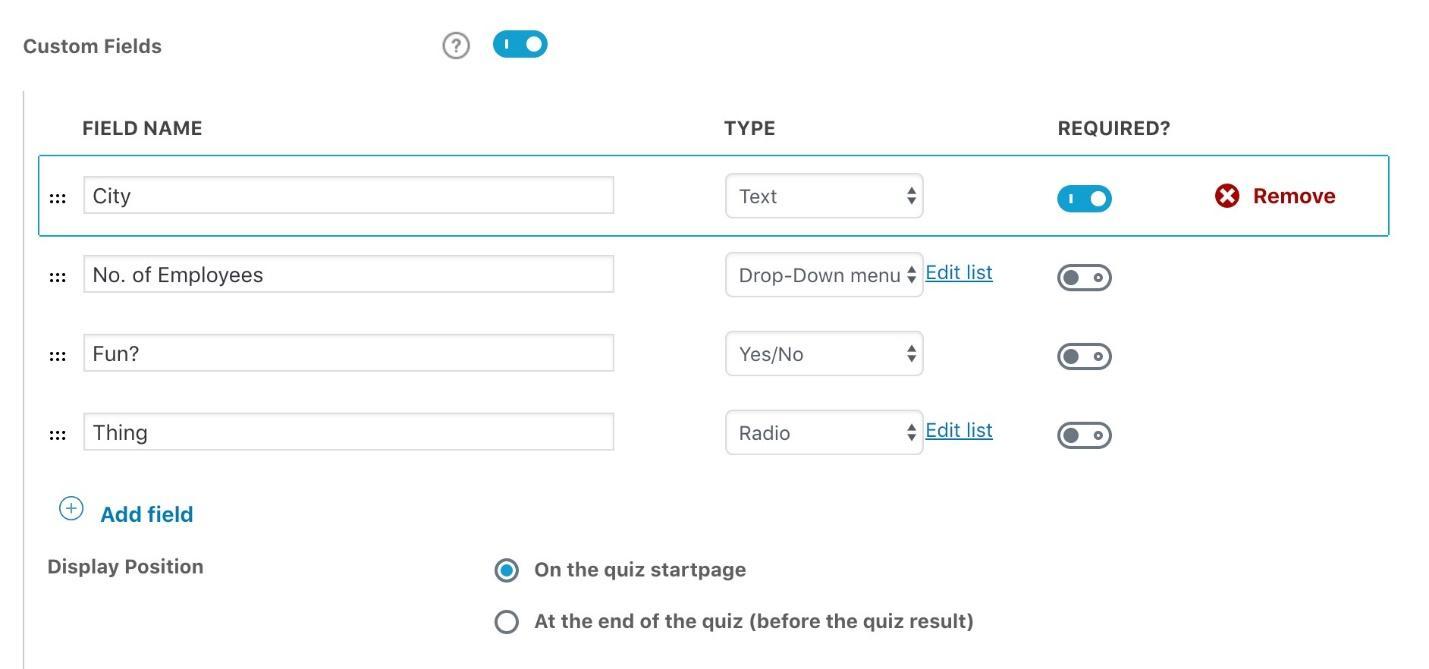 Activate the Custom Fields setting.
People Also Ask
How are LearnDash quizzes created?
Click the "Add" button after hovering your cursor over a question in the question field. The questions are included after your quiz as a result. Add further inquiries: Click the "Add Selected" button after checking the boxes next to certain questions. It will move every question you've chosen to the end of your quiz.
LearnDash plugin is it free?
LearnDash is not a free service. A premium WordPress LMS plugin that offers various payment tiers for various WordPress users. LearnDash offers Basic, Plus, and Pro plans to meet your needs.
Is LearnDash a theme or a plugin?
If you already have a WordPress site and want to add a learning management system, the LearnDash Plugin is fantastic. It includes but is not limited to, businesses that concentrate on training and educational institutions. It also includes WordPress developers who have clients who want an LMS.
How do I create my quiz?
Launch Canva.
Start Canva and type in "Quiz presentation" to get started.
Decide on a quiz design.
Customize your design after perusing our selection of ready-made quiz presentation templates.
Add your quiz questions and answers.
Change the content.
Add extra decorations.
Save or show your quiz.
What is the ideal page builder for LearnDash?
One of the most well-liked page builders for WordPress is Elementor. You can quickly add sales copy and pricing details to your course landing page to match the design of the rest of your course, thanks to templates they've made that are designed for the LearnDash course building.
Bring Your Online Courses to the Next Level with LearnDash and TeknoFlair
At TeknoFlair, we specialize in creating customized Learning Management Systems using LearnDash, the most powerful WordPress LMS plugin. Let our LearnDash experts craft you a customized LMS that engages your students, tracks their progress, and saves you time.
Key Takeaways
A well-liked Learning Management System (LMS) for developing and delivering online courses is called LearnDash.
There are many LearnDash add-ons available that can help you improve your quizzes.
Some of the best LearnDash add-ons for quizzes include:
LearnDash Advanced Quizzes: This add-on allows you to create more engaging and interactive quizzes with features like swipe questions, jumbled sentences, and calculated formulas.
LearnDash Quiz Import/Export: This add-on makes importing and exporting quiz questions easy, so you can save time and easily reuse your content.
Quiz Reporting Extension by WisdmLabs: This add-on allows you to track student performance and improve quizzes with detailed reports.
LearnDash Retake Quiz: This add-on allows students to retake quizzes, which can help them improve their understanding of the material.
LearnDash Pay for Quiz/Certificate: This add-on lets you sell access to quizzes and certificates, which can be a way to monetize your LMS.
Quiz Embed for LearnDash: This add-on makes it easy to embed quizzes into your lessons and topics so students can take them without leaving your site.
LearnDash QuizMixer Plugin: This add-on lets you create new quizzes by mixing and matching existing questions, which can save you time and help you create more varied quizzes.
LearnDash Gradebook is a LearnDash add-on that allows you to manage your student's grades and track their overall progress from a single location.
With LearnDash Gradebook, you can:
Easily view all of your student's grades in one place.
Assign manual grades to students for extracurricular activities.
Customize your grading scale to meet your needs.
Export grades to a spreadsheet or PDF file.
LearnDash Gradebook is a great way to save time and effort when managing your students' grades.
I am a professional copywriter helping businesses transform into brands using creative wordsmithery with a dash of rhetoric and creativity.