LearnDash administrators know the value of digging into student analytics to optimize their courses. But the built-in reporting feature does not satisfy.
Reporting and Analytics for LearnDash Online Courses
This is where LearnDash add-on plugins can fill in the gaps. With the right reporting plugin, administrators gain the advanced analytics they need to extract meaningful insights from LearnDash activities.
For instructors seeking more robust metrics and custom reporting beyond default LearnDash, purpose-built plugins are the way to go. LearnDash users can save time by using add-ons for basic statistics. This allows them to focus on using data to enhance engagement and understanding.
But first, what EXACTLY does reporting entail?
Reporting and Analytics in LMS
Effective online teaching goes beyond just sharing knowledge – you need to monitor outcomes to ensure students are gaining value. This is where reporting comes in.
In a traditional classroom, instructors can easily gauge comprehension through in-person communication. But tracking engagement is harder when teaching remotely. That's why implementing analytics in online courses is so critical. Reporting provides visibility into how learners interact with content so educators can optimize lessons accordingly.
While there are many potential metrics, course progress and quiz performance are two of the most crucial data points. These insights identify knowledge gaps, trouble spots, and engagement levels.
Luckily, LearnDash administrators don't have to start analytics from scratch. With the right reporting and analytics add-on tools, they can easily export these essential insights to drive student success.
Hence, comprehensive reporting is key for instructors to see the full picture and make informed decisions when teaching online. The data doesn't lie – it illuminates the path to improved outcomes.
Essential LMS Reports for Online Courses
The purpose of a learning management system is not only to deliver course content but also to report on user activity. So which reports actually matter?
The answer depends on what an organization needs to know about its users and how they interact with courses. While LMS platforms offer varying degrees of built-in reporting, there are some core metrics every system should capture:
Enrollment – Who is in each course
Status – Whether users started, are in progress, or completed
Progress Breakdown – Percentage of courses finished so far
Current Location – Exact lesson/module the learner is on
Time Spent – Total time spent in the course
Quiz Performance – Quiz completion rates and scores
Individual Answers – Reporting on responses to specific quiz questions
Last Login – Date of most recent login to track engagement
Armed with these key details, instructors can better identify student challenges, customize support, and ensure courses are effective.
7 Best Options for Reporting and Analytics for LearnDash Online Courses
1. LearnDash ProPanel
Managing your LearnDash courses got you feeling overwhelmed? We get it – keeping tabs on multiple students across lessons, quizzes, and assignments is no easy task.
Introducing the LearnDash ProPanel add-on – your LearnDash command center for taking back control with simplicity.
With ProPanel, you can now monitor your student's progress in real-time as they go through your courses. No need to wonder if they finished the quiz or handed in the essay – you'll have real-time updates easily accessible.
Plus, ProPanel takes the headache out of grading assignments, providing an intuitive hub to review and manage student submissions. Download detailed reports with just one click.
ProPanel allows you to do more than just the basics. You can send specific course announcements, interact with students on a personal level, and analyze quiz results and completion rates.
Still, juggling multiple spreadsheets and separate apps? Streamline your LearnDash admin with ProPanel. It's your all-in-one solution for managing courses and students with ease.
2. User Insight For LearnDash
LearnDash administrators know the pain of student data spread across multiple places. Would it not be nice to have a single hub for user insights?
That's what the User Insights for LearnDash add-on delivers. This powerful plugin aggregates student analytics into one intuitive interface.
With User Insights, educators can examine overall usage statistics for courses, lessons, and quizzes from each learner. The beautiful dashboards provide the bird's eye view they need.
They can easily access reports showing the number of courses finished, quizzes attempted, and more for each student. One spot consolidates all key activities.
No more toggling between tabs. User Insights compiles the student data that matters to instructors so they can better guide individuals.
For LearnDash users seeking a simplified way to grasp user behavior and progress, this is the analytics solution they need. Just activate User Insights and watch the insights come alive!
Now administrators can spend less time gathering statistics and more time acting on insights to improve student outcomes. That's the power of unified user data.
3. Tin Canny LearnDash Reporting
LearnDash administrators know the frustration of generic reports that barely scratch the surface of student comprehension and engagement. They need more insights.
That's where the Tin Canny LearnDash Reporting plugin delivers. It adds powerful analytics so educators can dive deeper into granular data on course progress.
Tin Canny Reporting assists admins and leaders in tracking learners' progress in various activities. These activities include Articulate Storyline, Adobe Captivate, iSpring, and H5P on LearnDash.
The reports are easy to understand. They help them find gaps in knowledge. They also help them see where students have difficulties. Additionally, they help them understand how engaged students are with all materials.
Bye-bye to lackluster default reports. This add-on helps analyze metrics related to educational goals, such as time spent and quiz performance. No more second-guessing what's actually happening with students and content. Tin Canny Reporting sheds complete light on the learning experience so they can take informed actions.
For LearnDash users ready to elevate above surface-level insights, this is the analytics solution they need. Activate Tin Canny Reporting and unlock 360 reporting to power learning.
4. Reports For LearnDash
LearnDash administrators know the importance of data-driven decisions when managing an eLearning platform. But without robust analytics, they are flying blind.
That's where the Wisdm Reports for LearnDash plugin delivers. It provides the personalized dashboards and insights administrators need to stay on top of learner and course performance. With this powerful reporting solution, they can quickly absorb critical metrics like enrollment, course progress, quiz scores, and engagement. No more guessing if students are on track.
The intuitive representation help administrators spot trends, identify issues, and showcase course impact. Now they can take decisive actions backed by data.
For LearnDash users ready to step up their analytics game and turn insights into outcomes, Reports for LearnDash is the solution. Consider it an x-ray into the learner experience.
With this plugin, administrators can spend less time compiling reports and more time applying learnings to create successful courses. That's the true power of data-driven education.
5. Grass Blade LRS LearnDash Integration
For organizations implementing xAPI-based learning, a Learning Record Store (LRS) is an essential component. This digital warehouse securely stores all eLearning data generated as learners interact with courses and content.
But building an LRS from scratch is a heavy lift. That's where GrassBlade Cloud LRS steps in – it's a plug-and-play cloud-based LRS solution ready for any xAPI ecosystem.
The GrassBlade xAPI Companion plugin helps integrate interactive content from tools like Articulate Storyline, Adobe Captivate, and iSpring.
Learning administrators can easily add different types of courses to LearnDash. These courses can include HTML5, xAPI, cmi5, and SCORM. Administrators can use their preferred authoring apps to add these courses. It just works.
Plus, the GrassBlade xAPI Companion unlocks advanced engagement tracking features like robust video analytics. Now you can capture detailed learner interaction data from all content to make informed decisions.
GrassBlade xAPI Companion allows LearnDash users to easily add immersive content from modern authoring platforms to their preferred LMS.
It's the easiest way to transform static courses into dynamic xAPI-enabled experiences that drive results. The best of both worlds.
Let me know if you would like me to modify or expand this plugin overview in any way. I'm happy to keep refining it based on your feedback.
6. EasyDash
The EasyDash plugin consolidates the data that matters most into a single, organized dashboard. Now you can instantly view top-level insights like:
Number of students, courses, lessons, topics, comments…you name it. The key totals are right there.
Courses with the most student enrollment and engagement. See your star players at a glance.
Most and least active students. Quickly identify who needs a nudge.
Overview of course, lesson, topic, and quiz progress. No more hopping between modules!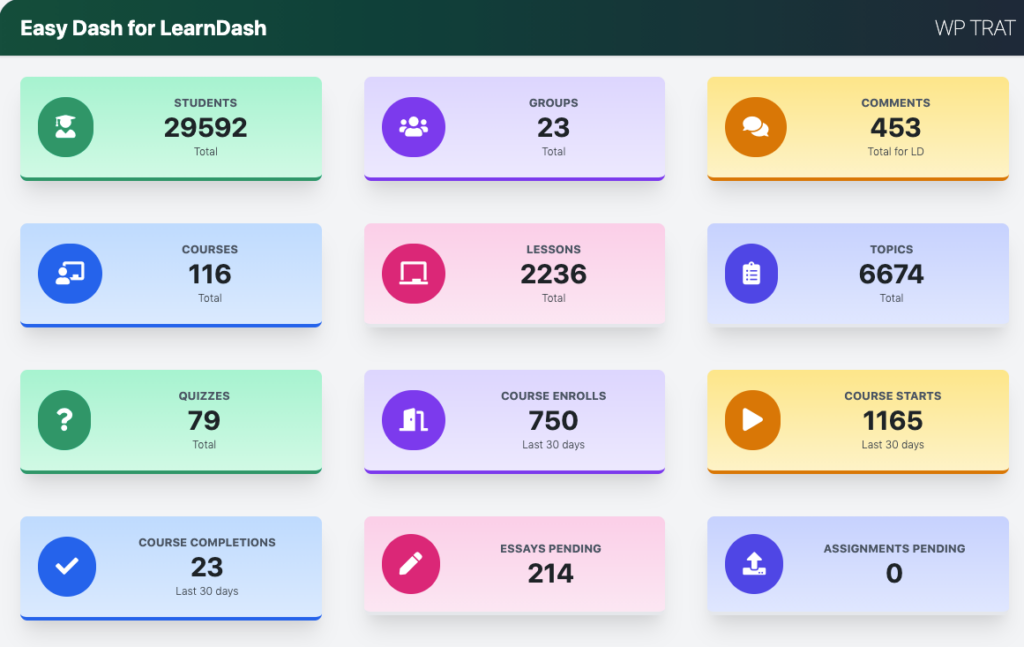 The dashboard also includes handy tables, like:
Course completion stats so you can see finishes, speed, etc.
Student activity tracking to monitor who's cranking through content.
This gives you an easy way to keep tabs on student progress and course performance from one central, visual hub. No more wasting time digging through docs to manually compile reports.
The free version delivers the core dashboard features to simplify your life.
If you want even more insight, the Pro version serves up advanced analytics like:
Shortcodes to embed your dashboard anywhere. Display key metrics right on your student or admin facing pages.
Customizable widgets to show/hide what makes sense for your needs. Declutter further!
Data exports to neatly compile and share stats outside your site.
More premium goodies in the works. Send feature requests my way!
Bottom line, if you want a bird's eye view of your LearnDash data to see what's working and what's not, this plugin will save you major headaches.
7. WP Fusion
WP Fusion is the #1 integration solution that seamlessly connects LearnDash with your marketing ecosystem.
Here's how WP Fusion makes your life easier:
It automatically syncs your LearnDash students with your CRM contacts, keeping data current in both systems. That means no more manual exports or trying to decipher out of sync info.
You can apply tags in your CRM based on what students do in courses – like passing quizzes, completing lessons, viewing pages, etc. This gives you the tags needed to…
Personalize and protect courses using CRM tags. Adapt course access and pathways based on contact tags. Pretty cool right?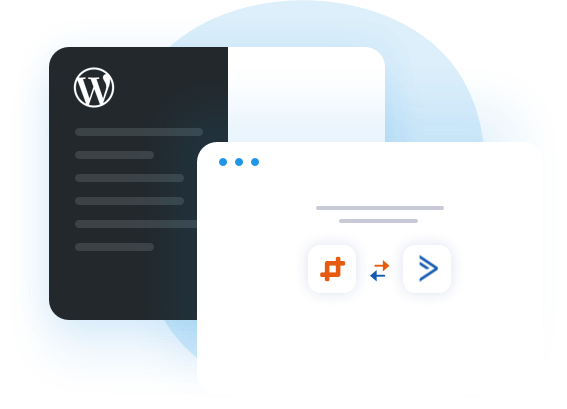 And with CRM workflows, you can auto-enroll students into courses or groups when they hit certain tags. Fully automated student experiences.
That's just the beginning! You can also:
View student course progress from your CRM.
Trigger email campaigns based on course activity.
Update your email lists as students take actions.
It's a smooth bi-directional integration between your marketing tools and LMS. No more data silos or manual syncing.
WP Fusion manages it all for you automatically so you can focus on other aspects of your online course business.
Thousands of customers rely on WP Fusion as their secret weapon for better course marketing and automation.
Ready to get your LearnDash and marketing tools working smarter together? Get WP Fusion services at Teknoflair and see the power for yourself.
Key Takeaways
Robust reporting is critical for online courses to monitor student progress and engagement. LearnDash's built-in reporting is limited, so we need add-ons.
Essential reports capture metrics like enrollment, progress, quiz scores, time spent, etc. This data identifies challenges and optimizes instruction.
Top plugins like ProPanel, User Insights, and Tin Canny Reporting provide advanced analytics beyond default LearnDash.
These tools offer visual representation, tracking, notifications, and compacted data reports for better insights.
Automated scoring plugins like Gradebook and Frontend Scores save time while improving student feedback.
Integrations like GrassBlade xAPI Companion extend LearnDash to immersive xAPI courses and centralize data.
For maximum value, Choose add-ons that align with your core educational goals and metrics. Analytics fuel better decisions.
Reporting plugins enable educators to derive meaningful insights from LearnDash activities to boost student outcomes.
Frequently Asked Questions on LearnDash Reporting and Analytics
Why is reporting important for LearnDash courses?
Reporting provides visibility into student progress, engagement, and outcomes. Without analytics, it's difficult for admins to identify challenges and optimize the learning experience. Robust data is key to good decisions.
What are some essential reports LearnDash should have?
At a minimum, track enrollment, progress, quiz scores, time spent, current module, last login date, and detailed quiz answers. This covers comprehension, participation, and engagement.
What limitations does default LearnDash reporting have?
The built-in reporting lacks visual representation for insights, only shows high-level metrics, and doesn't integrate external content data. We need more modulation, notifications, and granular detail.
Should I use a plugin to enhance LearnDash analytics?
Yes, add-on plugins provide advanced reporting and tools that fill gaps in default LearnDash. They save time while delivering the actionable data admins need.
What should I look for in a good LearnDash reporting plugin?
When searching, find options that have a clear display. These options should also provide personalized reports and notifications. Additionally, they should allow access based on roles and track quizzes and assignments. It is also important to choose options that offer analysis of external content and integration with APIs.
How can I use reporting insights to improve my LearnDash courses?
Identify knowledge gaps, tweak problematic lessons, customize coaching for struggling students, streamline confusing assessments, and segment modules by engagement.
Will add-on analytics integrate courses from other platforms?
Certain plugins like GrassBlade xAPI can integrate reporting from external xAPI-enabled courses into LearnDash.
I am a professional copywriter helping businesses transform into brands using creative wordsmithery with a dash of rhetoric and creativity.