LearnDash is the top choice for making online courses because it is flexible, easy to use, customizable, and has many uses. In this post, we will examine 39 businesses that have utilized LearnDash to develop effective training platforms as LearnDash examples. We will also explore the various opportunities it provides with reference to LearnDash LMS examples.
LearnDash: The Most Popular LMS for WordPress
LearnDash has emerged as the leading learning management system plugin for WordPress websites. Its immense popularity stems from several key factors:
Flexibility – LearnDash is a versatile tool that allows users to use it in two ways. It can function as a cloud platform or as a WordPress plugin. Its purpose is to enhance WordPress sites by adding online course features.
Ease of Use – Creating online courses is easy for everyone, whether they are beginners or experts. The course builder and other features are simple to use, as evident in the learndash example courses.
Customizability – Advanced controls for design, branding, layouts, styles, and user experience allow deep customization for owned, distinctive courses.
Broad use cases – LearnDash caters to creators, entrepreneurs, businesses, universities, and organizations alike. It scales to suit websites big and small.
With its versatile feature set, customizable interfaces, and WordPress integration, LearnDash has become the go-to LMS solution. It powers online courses for solo creators up to major academies and global enterprises.
The Many Users of Learndash's Flexible LMS
LearnDash caters to a diverse range of users looking to create online courses, memberships, coaching programs, and more. Some examples of businesses using LearnDash include:
Digital marketers – For creating educational courses to establish expertise and generate leads.
Coaches and consultants – For selling online coaching programs and digital products.
Corporate trainers – For building internal training modules and certifications.
Universities – For extending degree programs through online courses.
Publishers – For monetizing books and content by creating online courses.
While LearnDash requires some technical setup, its flexibility enables many use cases. Users must handle marketing, branding, and monetization separately. But LearnDash provides the core LMS functionality, as discussed later on in the LearnDash course examples.
Top Niches for LearnDash LMS Success
While LearnDash can power online courses for any business, some niches are particularly well-suited to effectively utilize its LMS capabilities:
Corporate Training – Easily create and efficiently deliver training modules and certifications for employees.
Higher Education – Develop comprehensive, dynamic online courses and degree programs at a college or university.
Niche Academies – Set up specialized training in interest areas like health, music, language learning, and more.
Selling Online Courses – Monetize your expertise or content by creating premium online courses to sell.
Membership Sites – Offer members-only access to gated content, forums, coaching programs, and other benefits.
Internal Knowledge Centers – Create libraries of helpful training content, resources, and documentation for your organization.
With its robust feature set, LearnDash can power online learning and membership sites across industries. But the above niches exemplify use cases where LearnDash particularly shines.
The key is leveraging its strengths for your specific audience and training needs. LearnDash provides the customizable LMS framework to build your branded training hub.
Let's study 39 unique examples of websites that use Learndash.
Agency Mavericks | Agency Courses
Agency Mavericks (formerly WPElevation) is a LearnDash website example of a successful premium course business powered by LearnDash. Their robust training platform uses LearnDash to deliver dozens of course modules to thousands of students.
By leveraging LearnDash's flexibility, Agency Mavericks has transformed into a high-end incubator providing premium online courses. Their well-designed curriculum continues attracting new students while exceeding $1 million in course revenue.
Agency Mavericks used the course builder and customizable features to create a user experience that matched their brand. LearnDash enabled them to turn their vision into a polished training platform that scales.
Their growth and revenue demonstrate LearnDash's capabilities in the right hands.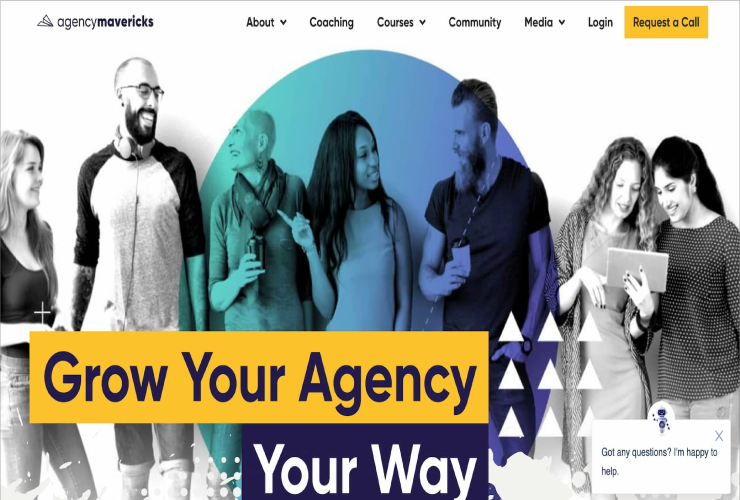 Be More With Less | PDF-based Micro Courses
The Be More With Less brand is one of those LearnDash example websites that utilize LearnDash to deliver. Their LMS site offers video courses, PDF-based microcourses, and a premium "Simplicity Space" membership powered by LearnDash.
By leveraging LearnDash, Be More With Less provides different learning formats to match its minimalist message. Short PDF courses allow for quick learning, while premium video content engages members.
With LearnDash's flexible course options, Be More With Less caters to diverse learning styles under one streamlined platform. Their customizable site reflects their simple living philosophy while monetizing their mission through memberships and online content.
For brands like Be More With Less, LearnDash enables delivering training in multiple formats tailored to different audiences and learning objectives. Their site exemplifies aligning brand identity with the learning experience.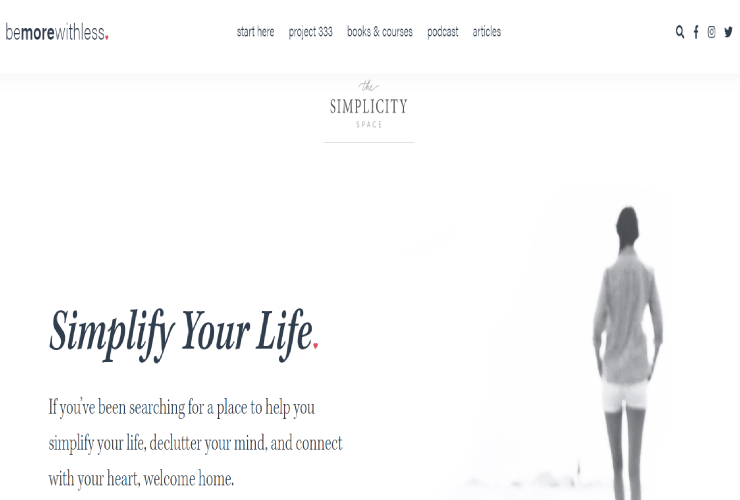 Bitesize Bio | Community Learning Platform
Bitesize Bio utilizes LearnDash to build a robust training and community hub for bioscientists. Their LMS site offers courses to improve scientific skills in areas like technical abilities, fundamentals, careers, funding, and more.
By leveraging LearnDash features, Bitesize Bio delivers diverse learning through courseware, webinars, podcasts, and articles. Settings like free course registration and always-visible sidebar navigation optimize usability.
Focus Mode keeps learners engaged with lessons while limiting distractions. Overall, LearnDash allows Bitesize Bio to foster an active community united by science learning.
For niche communities and membership sites like Bitesize Bio, LearnDash provides the tools to transform shared interests into engaging training ecosystems. The customizability facilitates building a specialized hub tailored to their field. It is a noteworthy LearnDash case study.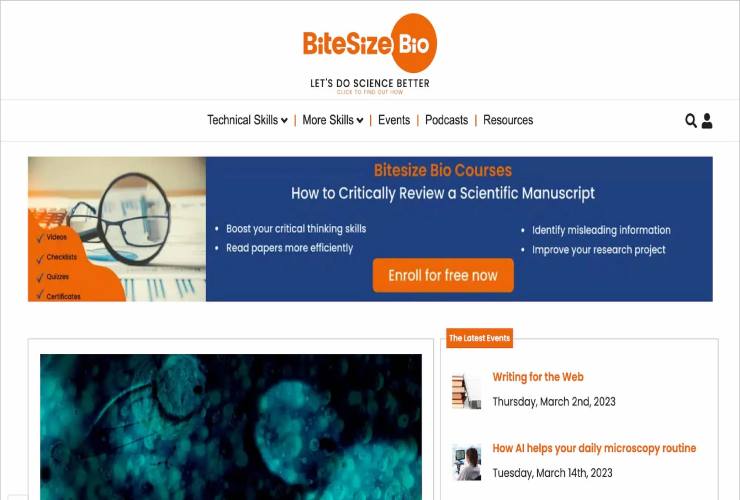 Bionic Turtle | FRM Exam Prep Training Program
Bionic Turtle utilizes LearnDash as the core LMS for their specialized financial risk management training programs. The interactive courses help professionals prepare for FRM certification exams.
By customizing LearnDash, Bionic Turtle provides an intuitive study planner that simplifies the learning experience for subscribers. Their platform offers two FRM programs across three membership tiers, monetized through WooCommerce integration.
Gamification features like badges and points keep learners engaged as they progress. Bionic Turtle's strategic use of LearnDash showcases the platform's versatility for niche training goals with tailored user experiences.
LearnDash's flexibility allows for tailored learning experiences in specialized programs such as test prep and certification training. Bionic Turtle exemplifies shaping the platform around specific training objectives.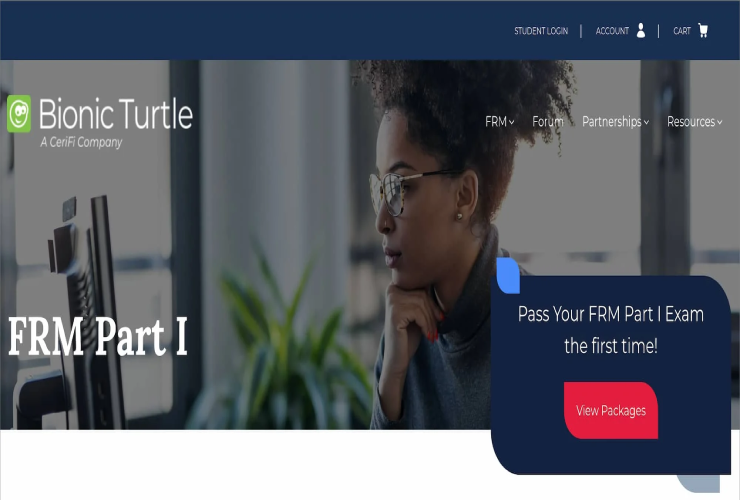 Camp Chroma | Downloadable Resources and Community
Camp Chroma offers online color training for design professionals through their video courses, downloadable materials, quizzes, and Facebook community.
They chose LearnDash as their LMS for its interactive features like hands-on exercises and active learning tools. This allows them to create engaging, practical training experiences.
Camp Chroma enhances their LearnDash platform with helpful features such as BadgeOS, Thickbox, WordPress Pixel, Emoji, Stats plugins, and Google Analytics.
By combining instructional video content with Learndash's assessments, Camp Chroma delivers robust design education centered on color mastery. The complementary tools boost interactivity and analytics.
For niche training providers like Camp Chroma, LearnDash enables building customized courses that mimic hands-on learning. The LMS provides the framework, while integrated plugins enhance engagement and functions.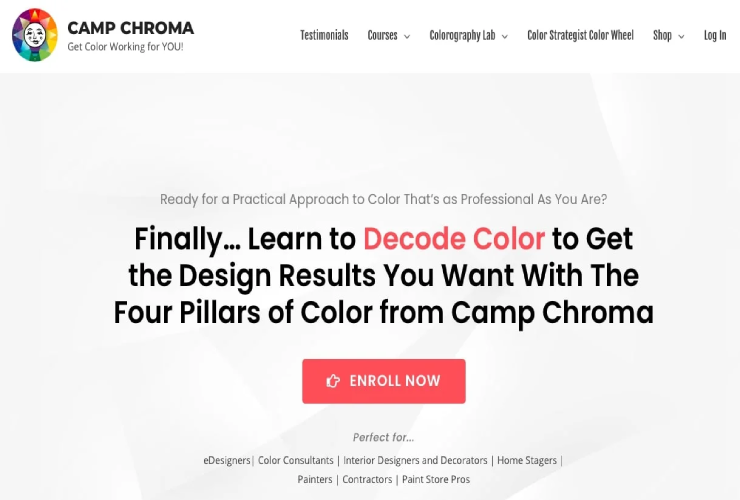 Carey Nieuwhof | Course Bundling
Author and coach Carey Nieuwhof leverages LearnDash to provide online leadership training to entrepreneurs, church leaders, and community builders through courses.
His premium Art of Leadership Academy demonstrates strategic course bundling with a polished landing page outlining the curriculum's value. Carey keeps learners engaged using built-in tools like Course Grid, Achievements, and Profile blocks.
By customizing LearnDash to match his coaching brand, Carey's Academy exemplifies monetizing expertise through an owned online course platform. Thoughtful integration of LearnDash features facilitates an immersive learning experience.
For coaches and consultants like Carey, LearnDash enables packaging your thought leadership into engaging course bundles. His Academy shows the possibilities for building a premium training destination tailored to your strengths.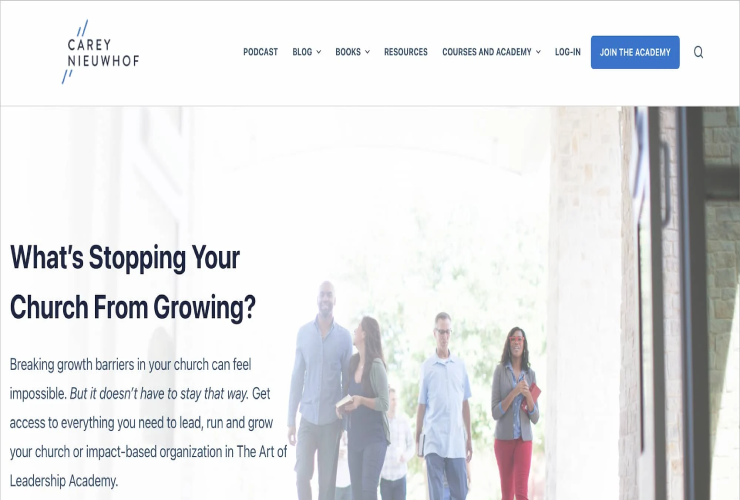 Clearinghouse Academy | Free Study Courses
The Clearinghouse Academy website demonstrates a robust online training hub powered by LearnDash. Their platform offers dozens of specialized courses focused on Clearinghouse education.
With a free basic account, learners can access all course content. This showcases LearnDash's flexible access options to make some or all materials freely available beyond paid courses.
By customizing LearnDash as a centralized training resource, Clearinghouse Academy becomes a go-to destination for its target audience. Their extensive course library exemplifies creating an owned online academy with the LMS.
Organizations use LearnDash to create a single training platform, like Clearinghouse Academy, where they can access all specialized training. The possibilities for customization are immense.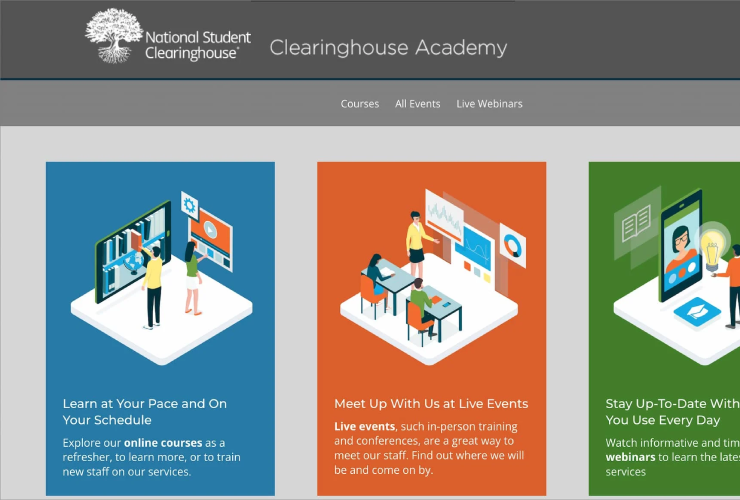 Content Bootcamp | Scalable Internal Training Program
Content Bootcamp HQ uses LearnDash to create an online training platform for editors to share tips and courses for writers.
The site combines LearnDash with Elementor and the Hello wordpress theme for enhanced custom page design flexibility beyond default LearnDash templates. This allows easy branding updates as needed.
For payments, Content Bootcamp HQ integrated WooCommerce, which enables conveniently adding new course products and coupon codes for internal team access. The combined stack provides elevated design capabilities while handling all core training functions through LearnDash.
In summary, Content Bootcamp HQ leverages complementary technologies like Elementor and WooCommerce to build on LearnDash's core course features. This provides expanded design options, payments, and access management tailored to their bootcamp concept. Their stack showcases extending LearnDash's capabilities through strategic integrations.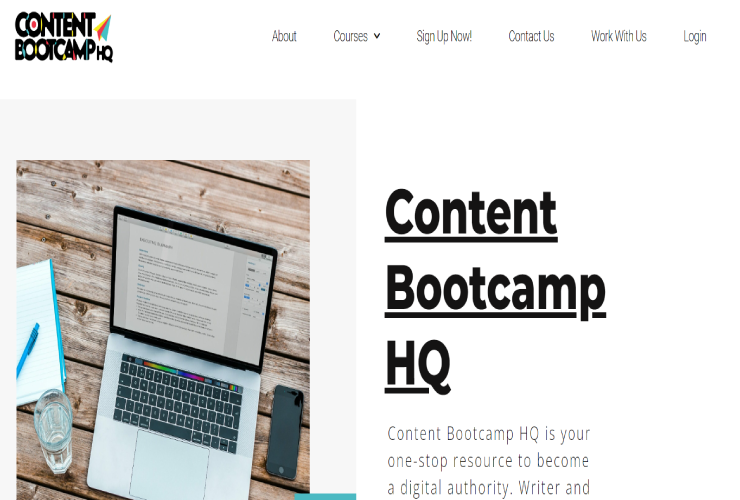 Drone Academy | Niche Academy With 1-1 Support
Drone Academy demonstrates LearnDash's capabilities for building a niche training platform focused on drone education. Their site offers comprehensive drone courses, news, reviews, quizzes, exams, and a social forum for enthusiasts.
By tapping into built-in LearnDash features like quizzes and discussion forums, Drone Academy facilitates engaging interactive learning beyond traditional lessons. Users gain knowledge while connecting with fellow drone fans.
For specialized academies revolving around specific interests like drones, LearnDash provides the core LMS functionality to create targeted training ecosystems. Drone Academy demonstrates how users can customize the platform to enhance learning within a specific domain.
Whether your niche is drones, photography, fitness, or beyond, LearnDash enables building an owned branded training destination tailored to your specialty. Drone Academy exemplifies shaping the versatile LMS for your particular learning community.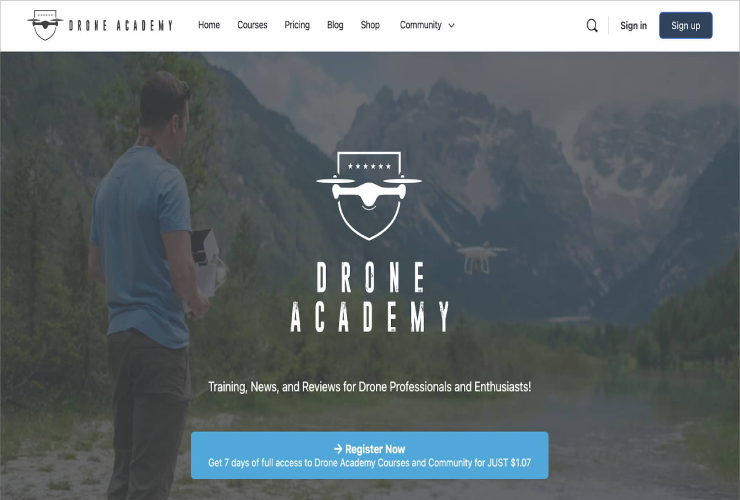 Executive Electrocardiogram Education (EEE)
Executive Electrocardiogram Education (EEE) provides interactive video courses teaching students how to interpret electrocardiograms.
EEE uses LearnDash for their LMS. They have many practice ECGs and each course has over 8 hours of instructional videos. This allows for deep, hands-on learning.
EEE uses Google Analytics for insights. It also uses Google Tag Manager for tracking. Additionally, it utilizes WordPress Emoji Release to engage learners. Lastly, it employs AddThis for content sharing on its LearnDash platform.
By combining LearnDash's robust course functionality with complementary plugins, EEE creates a powerful training experience tailored specifically for electrocardiogram education. The self-paced courses really optimize retention through extensive interactive video practice.
So, for healthcare continuing education like EEE, LearnDash allows for building customized, media-rich training programs that mimic hands-on learning. The right tools provide flexibility to match the platform to their unique teaching approach.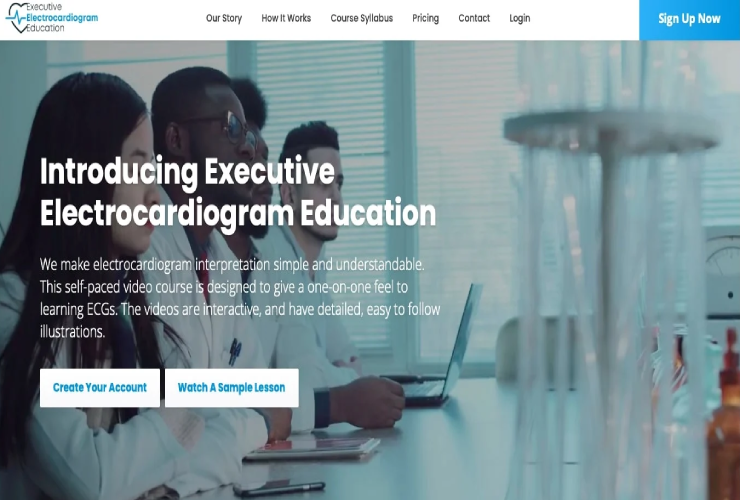 Fabric Incubator | Multi-module digital training
When the COVID-19 pandemic hit, the founders of Fabric Incubator recognized an opportunity to take their fashion business education digital. Sherri Barry and Angela Johnson leveraged LearnDash to launch a comprehensive video-based training program for apparel entrepreneurs.
The intuitive course builder and video support in LearnDash enabled replicating their in-person instruction in an engaging on-demand format. WooCommerce handled membership subscriptions and payments, while ActiveMember 360 integrated email marketing.
Fabric Incubator used LearnDash to quickly move their educational content online while keeping their training style and brand. Supporting plugins like WooCommerce and ActiveMember 360 extended monetization and marketing functionality with minimal effort.
LearnDash's flexibility helped Fabric Incubator reach more people with its digital training during uncertain times, building on its existing strengths. With the robust LMS as a foundation, complementary plugins enhanced the opportunity further.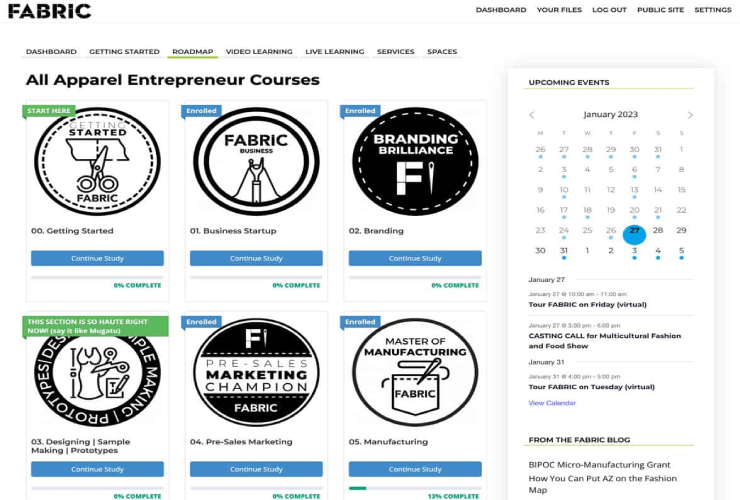 Fit Father Project | Online Training Program
The Fit Father Project website is a demo site of LearnDash's capabilities for delivering tailored online training experiences. Their platform uses the LMS to provide weight loss courses specifically designed for men over 40.
By structuring lessons and quizzes with LearnDash, Fit Father Project makes their fitness content easy to comprehend and apply for students. Customizable courses also allow for personalizing journeys based on user needs and goals.
For specific training goals, LearnDash allows the creation of a personalized learning experience that matches the target audience. The structured content and personalization features help effectively convey their proven fitness methodology online.
LearnDash equips subject matter specialists like Fit Father Project to take their domain expertise online through customized training flows. Their platform exemplifies shaping courses around the learning needs of a particular demographic.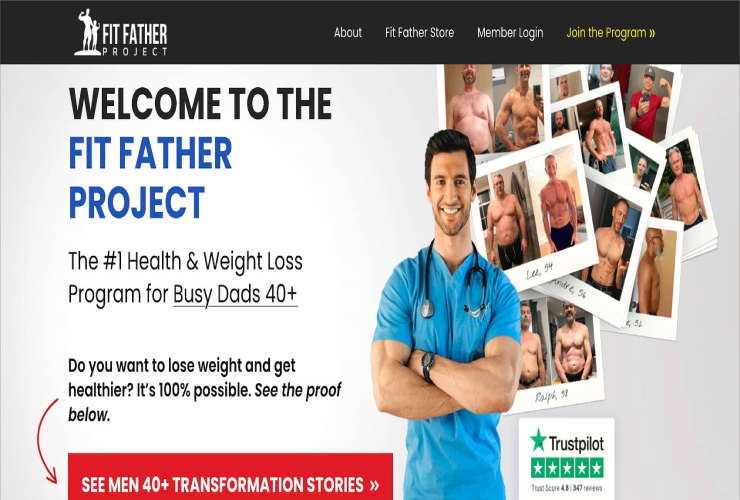 Gretchen Rubin | Course Creator
Author and podcaster Gretchen Rubin leverages LearnDash to deliver online courses related to her bestselling book, The Happiness Project. Her website showcases polished branding with a conversion-focused homepage and enticing course offerings.
To monetize her courses, Gretchen's site integrates WooCommerce for automatic discounts, seamless shopping cart capabilities, and simplified order management.
Gretchen uses LearnDash to match her brand and share her expertise with students who want happiness and fulfillment. Her implementation exemplifies monetizing thought leadership through an engaging, conversion-optimized LearnDash site.
For influencers and thought leaders, LearnDash allows packaging your message into premium online learning experiences. Gretchen's website demonstrates aligning brand identity with the course platform for an immersive student experience.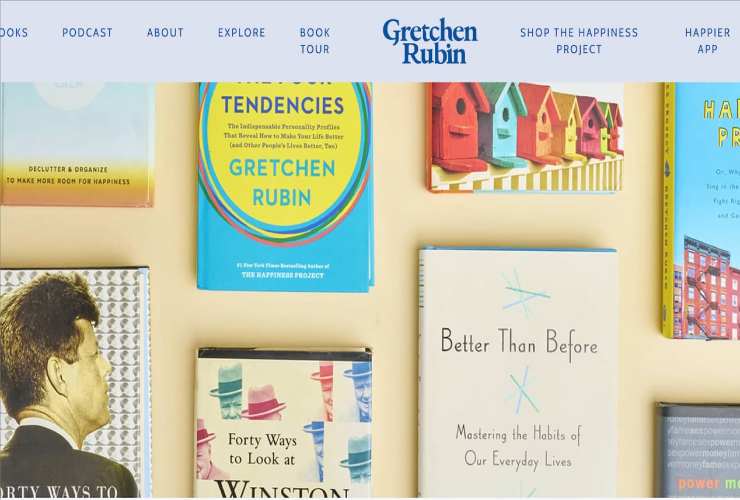 Ideapod Academy | Masterclasses
The Ideapod Academy website provides an example of LearnDash powering online courses for a media production company. As part of the broader Ideapod platform, their academy offers premium Masterclasses and other courses for registered users.
By implementing LearnDash, Ideapod can monetize its media expertise through gated educational content only accessible to paying members. You must register to preview their branded course experience.
For brands producing online content and media, LearnDash allows packaging offerings into engaging, high-value training modules. Ideapod Academy demonstrates how complementary premium courses can enhance a company's core content proposition.
Media producers can utilize LearnDash to repurpose content into exclusive online learning opportunities. Ideapod shows how implementing a tailored branded course portal expands audience monetization channels.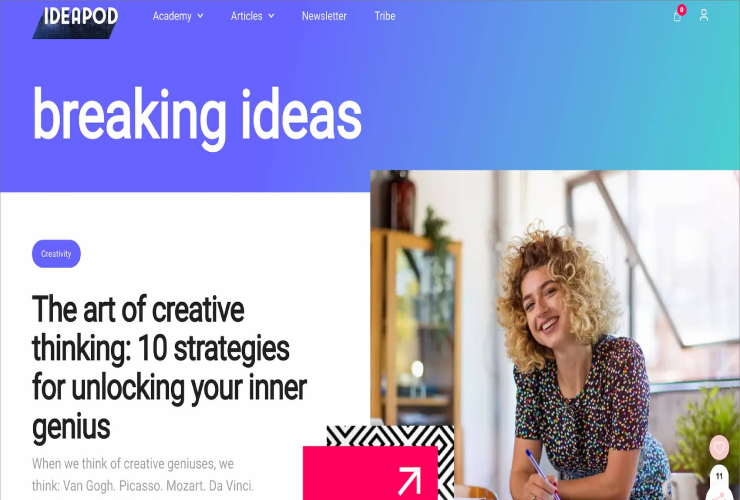 Jerry Jenkins | Recorded Workshops
Fiction author Jerry Jenkins leverages LearnDash to share his writing expertise through online video courses and recorded workshops.
His in-depth lessons cover topics like fiction writing, non-fiction writing, and self-editing. Students can also access downloadable resources to supplement the training.
Jerry benefits from using LearnDash because it seamlessly integrates with his other tools. These tools include Google Analytics, Tag Manager, Font Awesome, and Infusionsoft. This allows him to keep his tech stack while still gaining robust course management functionality.
By combining interactive video lessons with downloadable materials in LearnDash, Jerry provides a dynamic learning experience for writers. And the LMS seamlessly plugs into his existing WordPress platform and apps.
For creators like Jerry, LearnDash streamlines packaging knowledge into engaging online courses without requiring new systems. It slots right into existing workflows while providing core course management tools.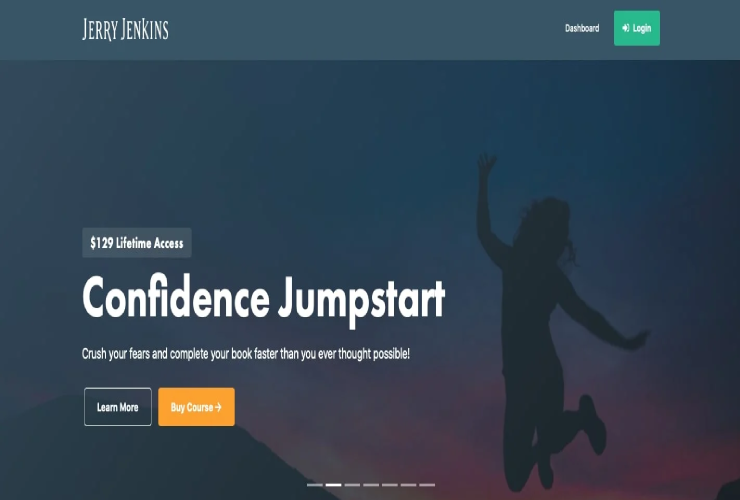 Johns Hopkins University / TCI University: Project Courses
Johns Hopkins University utilizes LearnDash to power online courses for their TCI University public health initiative. TCI University combines LearnDash course delivery with a custom AppPresser mobile app for accessing materials on the go.
By implementing LearnDash, Johns Hopkins provides flexible digital learning at scale for their urban health program. The addition of mobile app integration makes the courses even more conveniently accessible for busy working professionals.
For major universities like Johns Hopkins, LearnDash allows rapid creation and distribution of online versions of high-quality campus instruction. Features like Focus Mode optimize lessons for digital learning environments.
Higher education institutions can leverage LearnDash to expand their reach through remote course delivery focused on convenience and engagement. Johns Hopkins exemplifies innovating traditional education through forward-thinking online learning technology like LearnDash.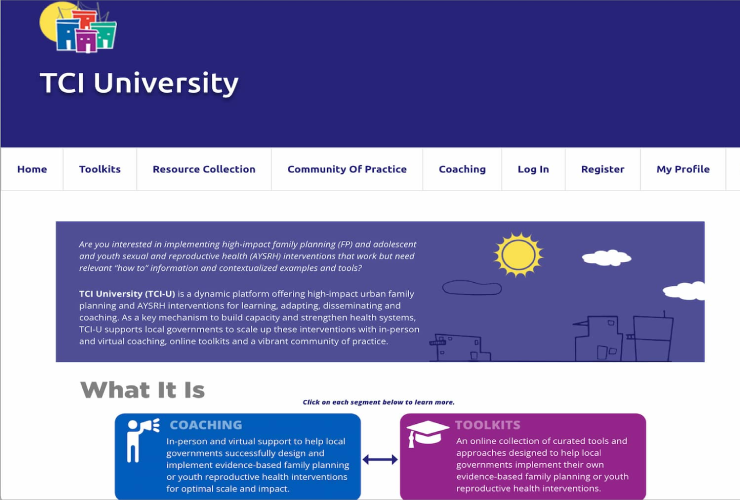 Keap | Business Learning Academy
The software company Keap uses LearnDash to build its customer training courses and learning management system. By implementing LearnDash, Keap reduced training overhead and new customer cancellations.
LearnDash's structured course delivery allowed Keap to strategically schedule training modules right when learners needed them most. The improved training experience resulted in customers showing up better prepared and informed.
Keap uses LearnDash to quickly make high-quality training content that helps with customer onboarding and keeping them. The LMS equips them to methodically position engaging courses within the user journey.
Businesses can leverage LearnDash to level up their customer training program. Keap demonstrates how the strategic learning platform improves customer preparedness, reduces churn, and enhances the onboarding experience.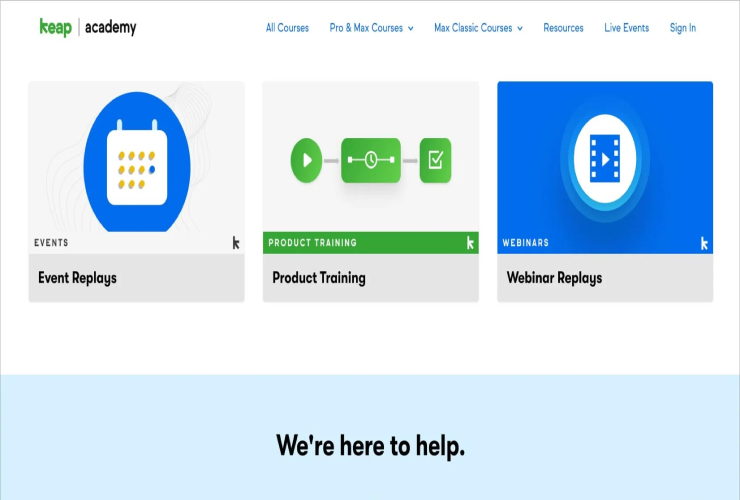 Kids Cook Real Food | Flexible e-learning library
The Kids Cook Real Food online course platform provides a great example of LearnDash implementation. Creator Katie leverages the LMS to offer comprehensive cooking course content for families, including a paid membership option.
A free sample lesson gives prospective members a preview showcasing LearnDash's simplicity. Katie's savvy site structure uses a subdomain to separate the course content from her main site for better performance.
Kids Cook Real Food uses LearnDash, Elementor, and Astra themes to improve course page design options beyond default templates. The lessons incorporate progress trackers, branded videos, and intuitive recipe access powered by LearnDash.
Through strategic theming, content structure, and membership monetization, Kids Cook Real Food builds an engaging training destination using Learndash's flexible tools. Sample lessons and progress indicators entice sign-ups while custom design matches their brand.
For creators like Katie, LearnDash allows packaging expertise into customized learning experiences. Kids Cook Real Food exemplifies tailoring the platform to effectively share knowledge.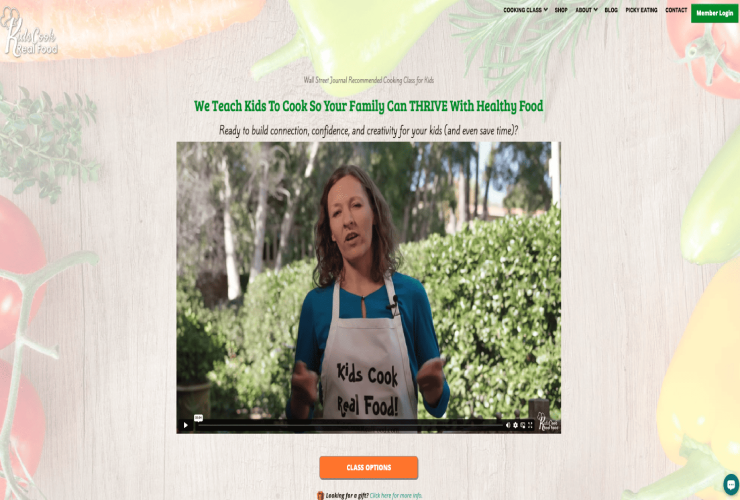 Maria Killam | LearnDash with WooCommerce
Maria Killam leverages LearnDash to deliver online courses that showcase her expertise in color and design. Her site also utilizes the LearnDash WooCommerce integration to manage an online store selling courses alongside physical products.
Maria uses LearnDash and WooCommerce to create a smooth shopping experience for customers who want to buy her educational courses. Detailed course breakdowns on the checkout page further explain the value.
Maria's implementation exemplifies using LearnDash and WooCommerce together to create a polished, conversion-focused online learning platform. Her courses and integrated store align with her personal branding in the design space.
Maria, a subject matter expert, can use LearnDash and WooCommerce to create paid courses and sell other products. Her platform provides a blueprint for monetizing expertise through an owned LMS.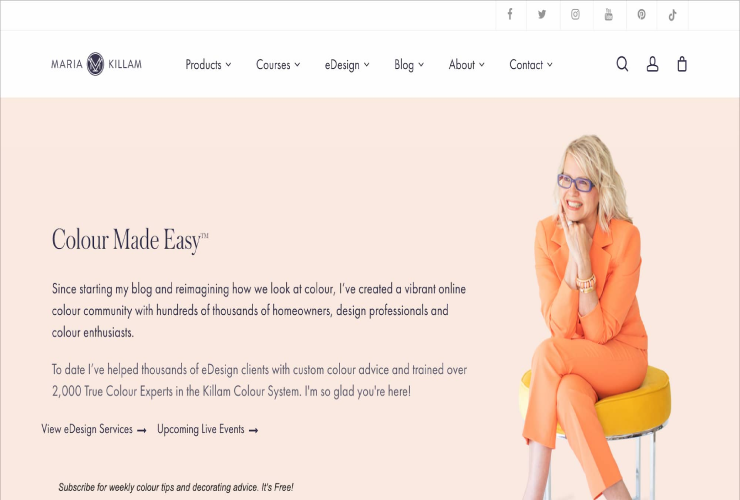 Money Management Bucknell Edu | Financial Literacy Modules
The Money Management course program from Bucknell University provides an example of higher education leveraging LearnDash for financial literacy education. Bucknell uses the LMS to deliver engaging online courses that help students gain critical money management skills.
By implementing LearnDash, Bucknell can rapidly create interactive lessons, quizzes, multimedia content, and other course modules to foster learning. The university can track student progress and customize the experience based on their needs.
For accredited universities like Bucknell, LearnDash streamlines building online versions of on-campus courses for remote learning. The LMS provides the tools to recreate a rigorous curriculum digitally.
Higher education institutions can use LearnDash to expand their educational reach through scalable online course delivery. Bucknell demonstrates the platform's capabilities for interactive remote learning across disciplines.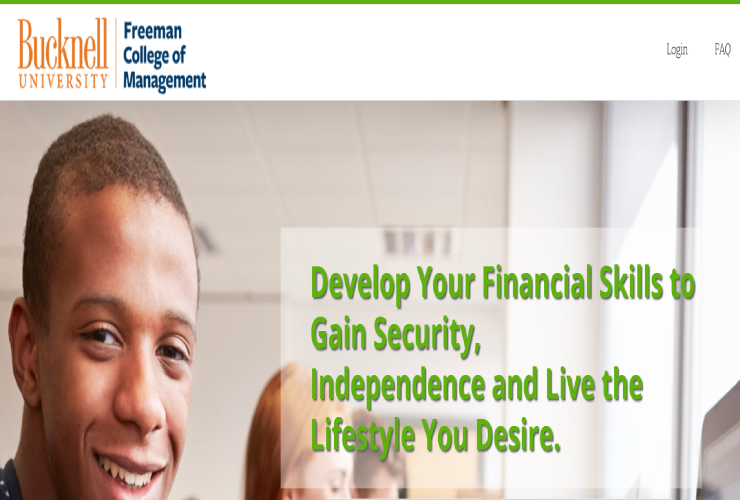 Music Duo | Several types of courses and memberships
Music Duo provides an example of LearnDash powering specialized online music training courses for kids. Founder Linda Davis leveraged her years of offline teaching expertise to create engaging video lessons integrated with Divi themes.
Targeted programs for different ages feature drip-fed content to encourage mastery. Stripe handles payment, and parents can preview the experience with a free 14-day trial.
To augment LearnDash's core course functionality, Music Duo added the Uncanny Toolkit Pro for additional features like conditional drip content. This demonstrates how add-ons can expand capabilities.
For niche training businesses like Music Duo, LearnDash enables the building of customized online learning portals from existing offline programs. Add-ons further enhance the possibilities. Music Duo exemplifies bringing specialized instruction online through LearnDash's flexible LMS.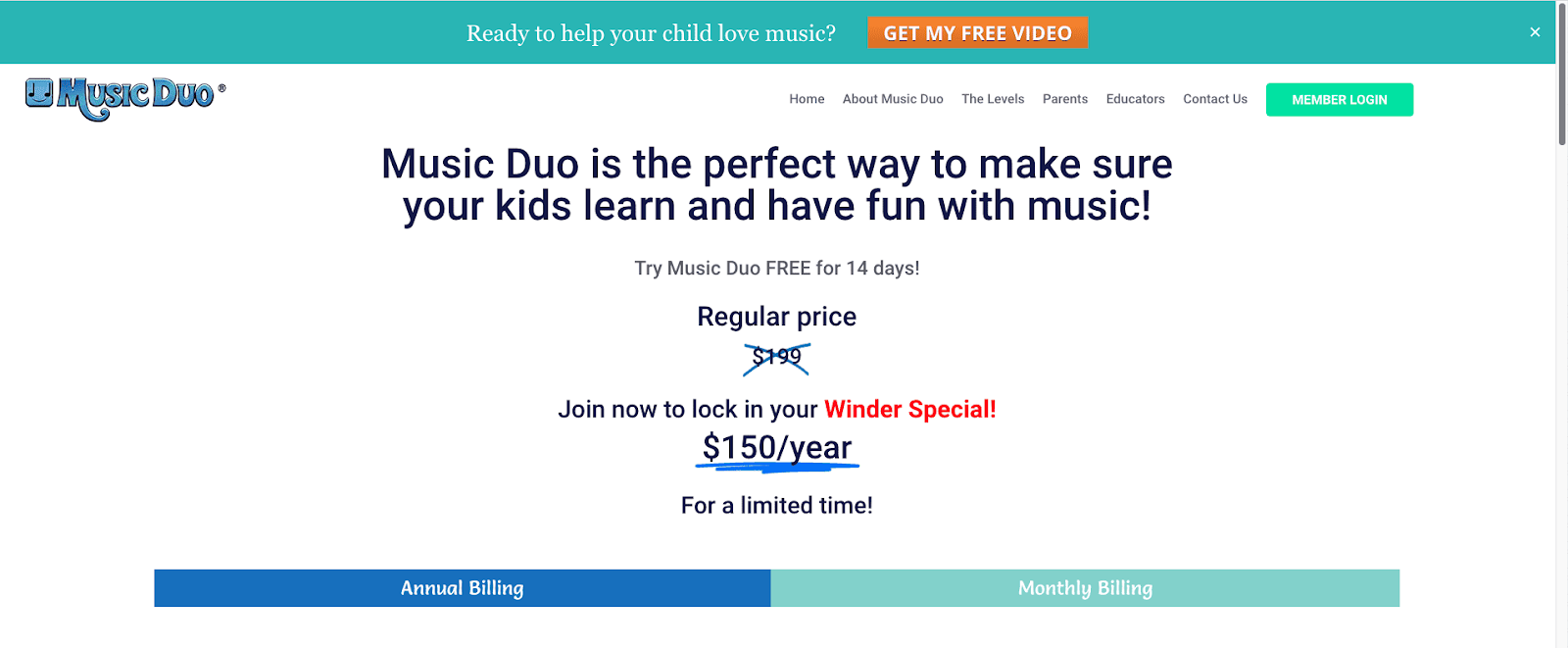 My Study Series | Niche Courses
My Study Series is an e-learning platform built in New Zealand by teachers for teachers. It offers over 600 video lessons in subjects like PE, Math, Health, and Science for NCEA curriculum levels 1–3.
As their LMS, My Study Series chose LearnDash for its robust quizzing and gamification features. This allows them to make the courses more interactive and engaging for students.
To enhance their LearnDash platform, My Study Series utilizes useful additions like QuiroBot, Google Analytics, Google Tag Manager, Beamer, and ConvertBox.
My Study Series offers high-quality education that follows New Zealand's curriculum by using instructional videos and LearnDash's assessment tools. The complementary plugins augment student engagement and feedback.
For niche course providers like My Study Series, LearnDash allows for building customized training experiences that align with specific learning goals. The LMS equips them to match their platform to educational standards and best practices.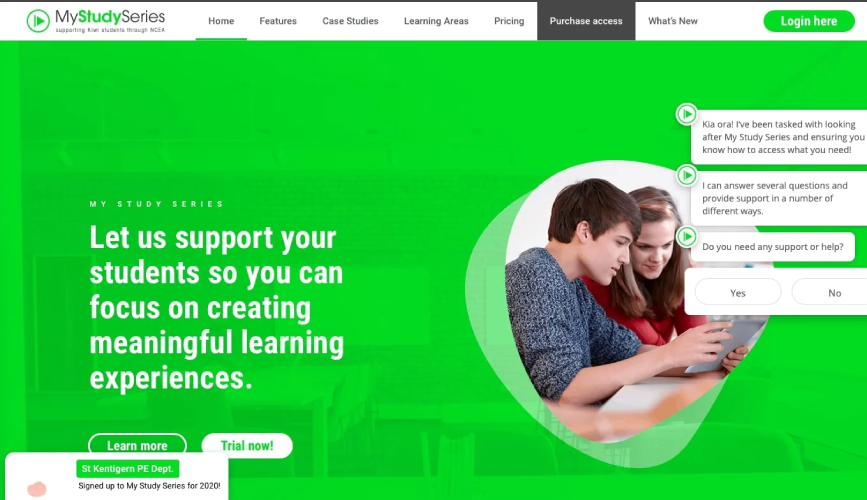 National Center for Victims of Crime (NCVC) | Self-Paced Courses
The National Center for Victims of Crime (NCVC) lends support and resources to help victims rebuild their lives after trauma. Founded in 1985, they offer self-paced online courses and a variety of additional materials.
By implementing LearnDash for their training content, NCVC can make continuing education more accessible for victim service providers.
To augment their courses, NCVC also utilizes useful additions like Gravatar for participant avatars and WordPress Emoji for extra visual engagement.
With LearnDash's self-serve course delivery, NCVC can efficiently provide quality training at scale for those supporting victims. The complementary tools boost interactivity and connection.
For nonprofits like NCVC, LearnDash streamlines creating on-demand courses that fit into busy schedules. This allows them to meet their mission and share knowledge as widely as possible.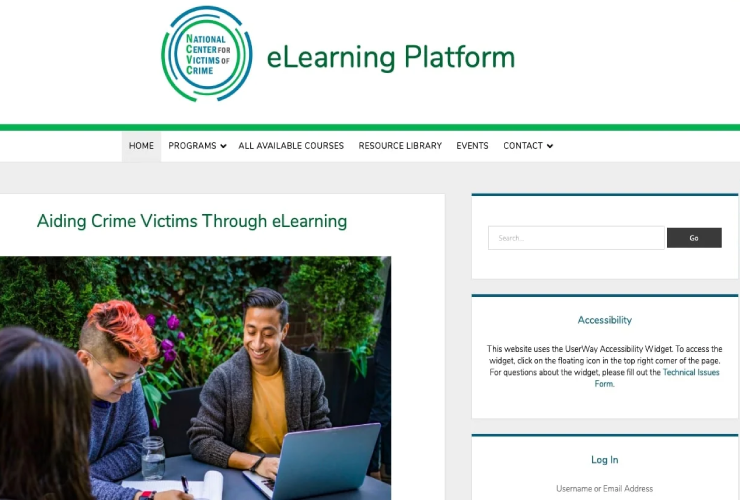 OptinMonster | Courses for Customers
The software company OptinMonster uses LearnDash to power its customer training destination, OptinMonster University. With hundreds enrolled, the free university helps users maximize OptinMonster's lead generation potential through courses created in LearnDash.
OptinMonster uses a simple tool to make quizzes, lessons, and training content that engages users and improves platform mastery.
LearnDash helps SaaS companies like OptinMonster create self-service training resources, reducing the need for customer support. OptinMonster University exemplifies improving customer experiences through tailored educational courses.
By implementing LearnDash, software companies can easily produce training content that improves user success. OptinMonster shows how complementary training offerings increase platform stickiness while demonstrating customer commitment.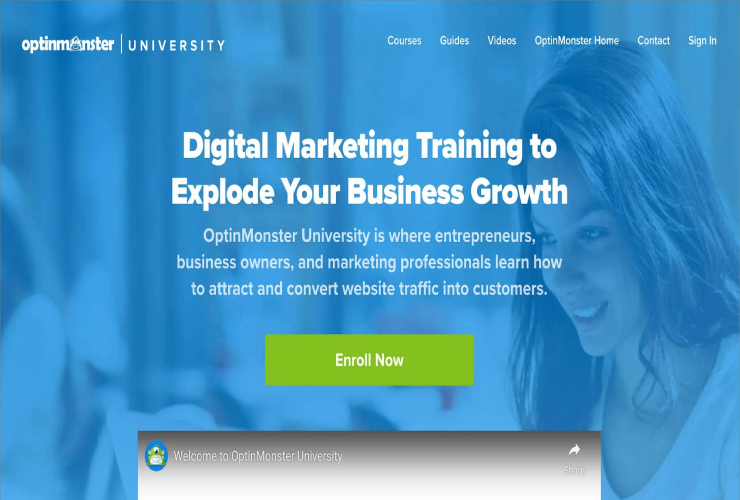 PerfectMyMusic | Music Courses
The PerfectMyMusic platform demonstrates LearnDash's capabilities for building online music lesson training targeted at teachers and students. Their courses for all skill levels take advantage of mobile-friendly lesson delivery.
By leveraging LearnDash's course management tools, PerfectMyMusic can efficiently create and organize its interactive music curriculum. Built-in quizzes allow for assessing and adjusting teaching methods based on student progress indicators.
For continuing education businesses like PerfectMyMusic, LearnDash provides versatile LMS functionality to structure engaging lessons for niche communities. Simplifying the management and analysis of student performance.
Specialized training platforms can utilize LearnDash to deliver tailored learning experiences specific to their subject matter. PerfectMyMusic exemplifies building a customized training destination using the LMS framework.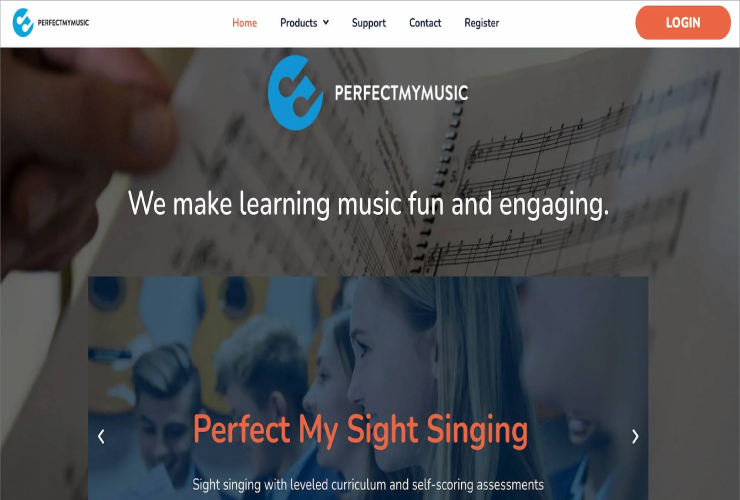 PKP School | Peer Discussion
The PKP School offers global online courses in scholarly publishing, helping new publishers and editors master PKP software.
PKP School uses Matomo for analytics. It also uses Gravatar for avatars. Additionally, we use CSS and AppJS to enhance LearnDash LMS for programming and mobile web apps.
A key reason for choosing LearnDash is that it enables student comments on lessons, allowing peer discussion and connection.
By combining interactive course materials with per-module comments in LearnDash, PKP School facilitates collaborative publishing education for emerging professionals worldwide.
For niche course providers like PKP School, LearnDash allows for building customized training experiences while retaining social features. This creates an interactive global learning community.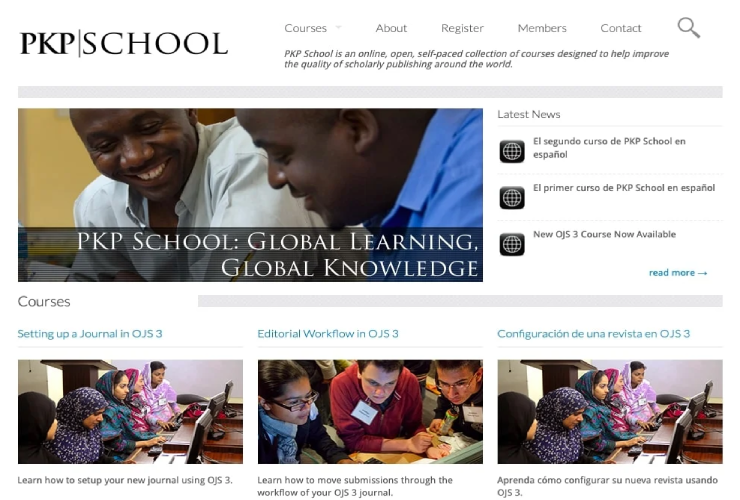 ProBlogger Courses | Free and Pro Courses
The prominent blogging resource ProBlogger leverages LearnDash to deliver online courses aimed at improving blog creation and growth. Their free and paid courses provide comprehensive training for bloggers at all skill levels.
By implementing LearnDash, ProBlogger can easily build an engaging curriculum covering content creation, website optimization, audience growth, and more. The structured course modules empower bloggers to maximize their sites.
For respected online media brands like ProBlogger, LearnDash allows conveniently repurposing expertise into polished training content. Their implementation exemplifies monetizing knowledge through premium online education powered by a tailored LMS.
Industry authorities can utilize LearnDash to package their thought leadership into consumable learning experiences. ProBlogger demonstrates aligning an owned online course platform with an existing respected brand.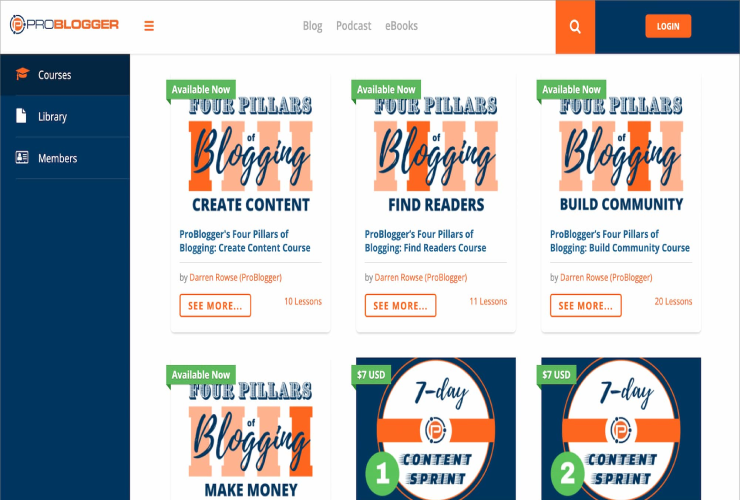 Schedulicity | Product tutorials and Training
The scheduling platform Schedulicity utilizes LearnDash to provide free self-service training for their software through bite-sized courses. Their implementation showcases LearnDash features like open course access and Focus Mode.
By removing login friction, Schedulicity allows anyone to conveniently access the tutorial content under the Tutorials section. Focus Mode optimizes lessons for distraction-free learning to boost retention.
For SaaS companies like Schedulicity, LearnDash enables quickly building product training resources that improve customer experience. Short tutorials reduce support tickets while conveying a commitment to user success.
Software companies can leverage LearnDash to efficiently produce customer training content that increases platform mastery. Schedulicity demonstrates the value of complementary education offerings.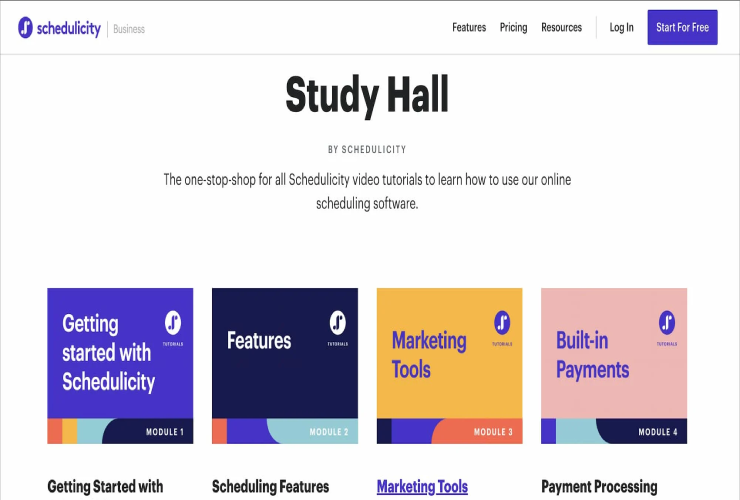 Showit | Course Grid
The website builder platform Showit uses LearnDash to power free training resources for their users. Their implementation leverages add-ons like Course Grid plus built-in features like Topics and video progression.
The Course Grid add-on allows Showit to display its course library in an engaging grid overview on its Tutorials page. Topics maintain focus in lessons, while video progression guarantees full viewing of videos.
For drag-and-drop platforms like Showit, LearnDash provides the tools to create structured, digestible training content. Add-ons augment capabilities, while innate features optimize lessons for true comprehension.
SaaS companies can utilize LearnDash to build product training that improves customer mastery. Showit demonstrates strategically applying LMS features and add-ons to facilitate an immersive learning experience.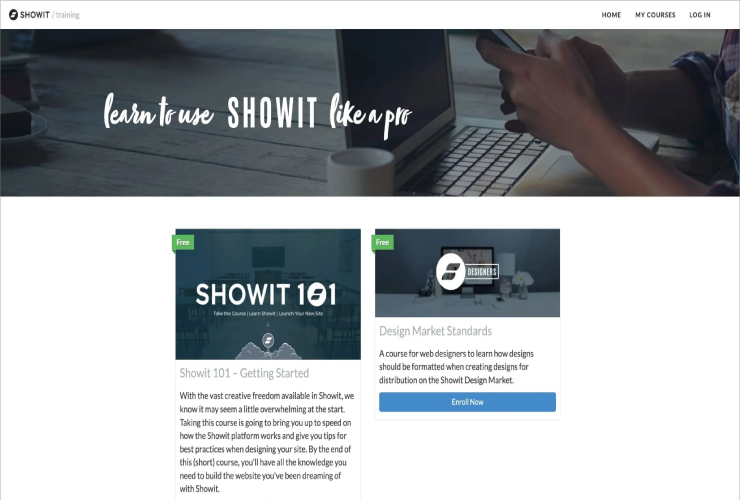 Smart Insights | Digital Marketing Courses
Want to create an awesome e-learning platform for digital marketing training? Then you need to learn from the best.
Smart Insights should be your go-to example of how to leverage LearnDash to build a personalized, comprehensive learning experience.
Through their intuitive LearnDash LMS, Smart Insights offers in-depth digital marketing courses and tools to empower their members. The seamless interface makes it easy to access on-demand training content.
One standout feature is the Capability Grader assessment. This allows members to evaluate their current skills and get targeted recommendations for improvement.
By implementing similar personalized learning paths, you can guide your students to the right training for their needs. Smart Insights sets the standard for creating a stellar LearnDash learning hub.
So take a page from their book as you develop your own e-learning platform! Analyze what makes their LearnDash setup so effective. Then, implement the best practices that will help your members master digital marketing.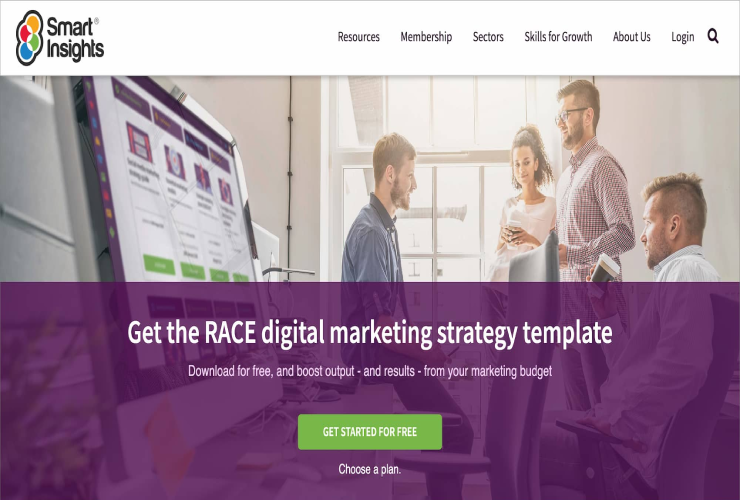 Social Media Examiner | Host Live Q & A's
Social Media Examiner provides training resources like articles, podcasts, and videos for social media marketers.
With LearnDash as their LMS, they can easily upload new podcast episodes weekly, deliver online courses, and share weekly tutorial videos.
LearnDash also enables them to host live Q&As with new students for further interaction. They augment their courses using tools like Optinmonster, Google Leads, Gravatar, drip tags, and Google Analytics.
By leveraging LearnDash for content delivery and events, Social Media Examiner creates an always-fresh library of social media education. Complementary tools boost engagement and tracking.
For online education providers like Social Media Examiner, LearnDash allows rapid publishing of multimedia content while enabling two-way interaction. This keeps their community lively and informed.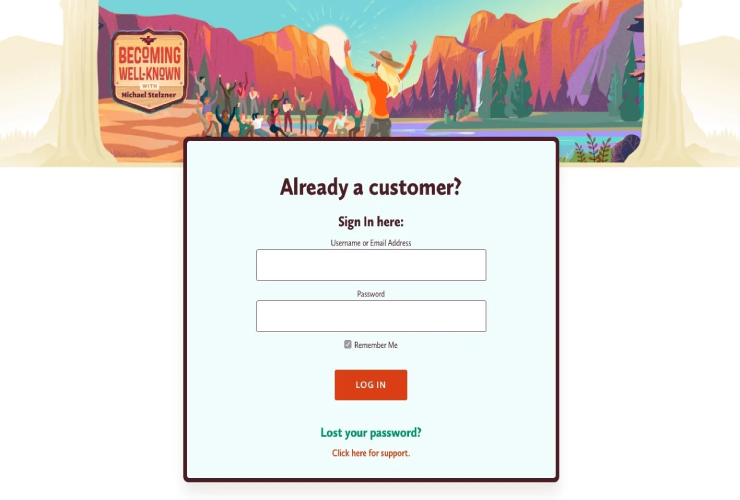 StoryCorps DIY | Storytelling Courses for Groups
StoryCorps DIY offers self-paced storytelling courses for community groups and teachers seeking to build connections and compassion.
A key factor in selecting LearnDash was its webinar functionality, which they leverage to provide interactive virtual training.
StoryCorps DIY offers lesson plans and resources for their courses, using tools like WordPress Emoji and Google apps to engage students.
StoryCorps DIY can easily share their storytelling and communication expertise by using LearnDash's course creation tools and webinars.
For nonprofit training providers like StoryCorps DIY, LearnDash enables building scalable online curricula with powerful virtual session capabilities. This allows them to spread their mission digitally.

Strategic CFO | Workshops and E-books
The Strategic CFO provides training to help businesses build financial leadership skills. They chose LearnDash as an all-in-one system to deliver their consulting, workshops, tools, and e-books online.
The Strategic CFO added several helpful plugins to their LearnDash LMS. These plugins include Uncanny Toolkit, Infusionsoft, Google Analytics, Gravity Forms, Booking Calendar, Events Calendar, Fancybox, and Table of Contents.
This allows them to offer a diverse mix of training formats, from structured courses to live workshops and downloadable materials. Integrations handle bookings, events, and content display.
The Strategic CFO uses LearnDash to easily control and sell their various business finance courses all in one location.
LearnDash is a versatile solution for companies that offer many different learning products. It helps in organizing and making money from various content all in one place.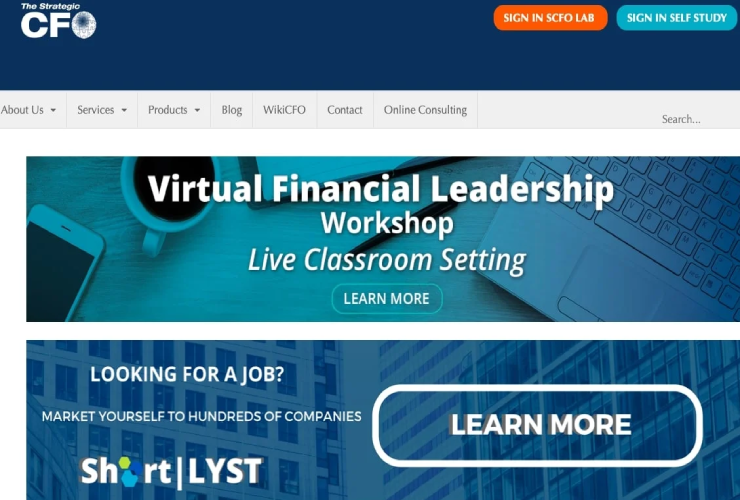 The Medical MBA | Flagship course and membership
Want to create online courses to diversify your income like Dr. Shane McKeown of The Medical MBA? Then, LearnDash is the go-to LMS.
Dr. McKeown chose LearnDash to deliver his business training for doctors for several key reasons:
It looked polished and professional out of the box
Easy WordPress integration
Ability to drip-feed lessons over time
By dripping lessons, Dr. McKeown could create a structured learning path to guide students through the material. LearnDash simplifies this personalized approach.
For payments, The Medical MBA uses Thrivecart with Zapier to connect to Convertkit email marketing. This combo makes running the course smooth and automated for a small team.
LearnDash's organization tools also let them create well-structured courses with quizzes, materials, and certificates to enrich the learning experience.
When adding video lessons, they host videos on Vimeo and embed them seamlessly into LearnDash. This provides flexibility over video styling and hosting.
The bottom line is that LearnDash enabled The Medical MBA to create personalized multimedia courses with a professional look.
So, if you want to launch awesome online training like Dr. McKeown, LearnDash should be your first stop. Use its features to customize learning paths that engage students and bring your educational business goals to life!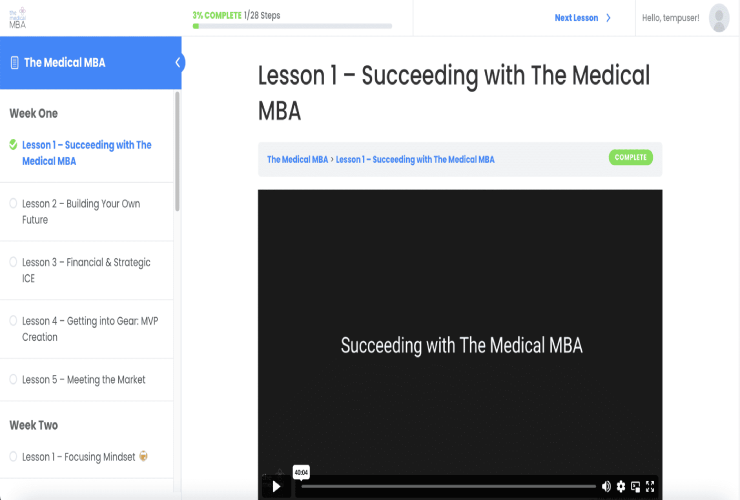 The Paleo Mom | Monetization of Mini-courses
The Paleo Mom has built an impressive health and wellness resource. To take their content further, they offer online courses powered by LearnDash.
Integrated into their WordPress site on the Genesis theme, LearnDash provides the perfect LMS for their specialized training.
They process payments through Woocommerce, which plays nicely with LearnDash. This makes the purchase process smooth for students.
LearnDash offers a small number of courses but allows for easy testing and the addition of new digital products.
Even if you just want to experiment with online courses, LearnDash integrates seamlessly into existing WordPress sites. You can start small & then scale up your digital education hub as interest grows.
For niche sites like The Paleo Mom, LearnDash can quickly turn your content expertise into specialized online courses.
So, if you're ready to monetize your knowledge through e-learning, LearnDash is a flexible, user-friendly solution. Easily build out your digital course catalog to engage students and grow your authority in any niche!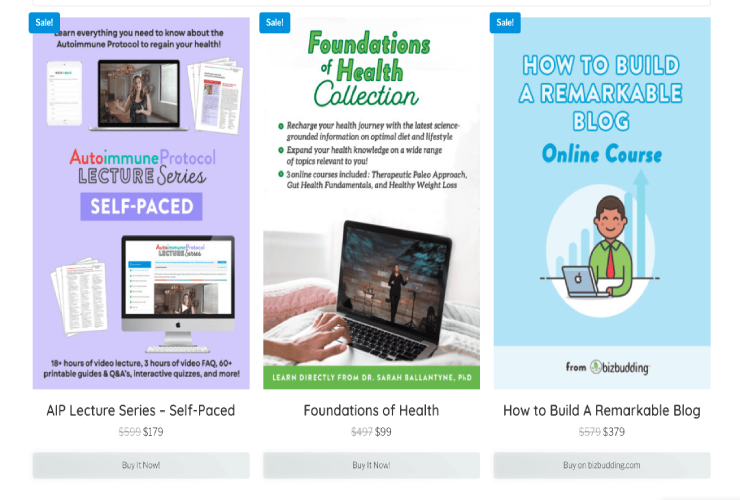 Topspeed Golf | Updatable Paid vault of e-learning
With over 1,000 instructional videos within 19 courses, Topspeed Golf leverages LearnDash to organize and deliver premium training.
The intuitive LMS allows the team to easily add new on-demand content weekly to enrich the member experience.
Topspeed Golf uses Member Mouse and LearnDash to handle various membership levels, including free, monthly, and yearly access.
For sites with extensive multimedia training content, LearnDash provides user-friendly tools to structure, manage, and scale up your online offerings.
LearnDash can help you create a personalized online learning platform. It is similar to Topspeed Golf. With LearnDash, you can share your knowledge and provide valuable education to students.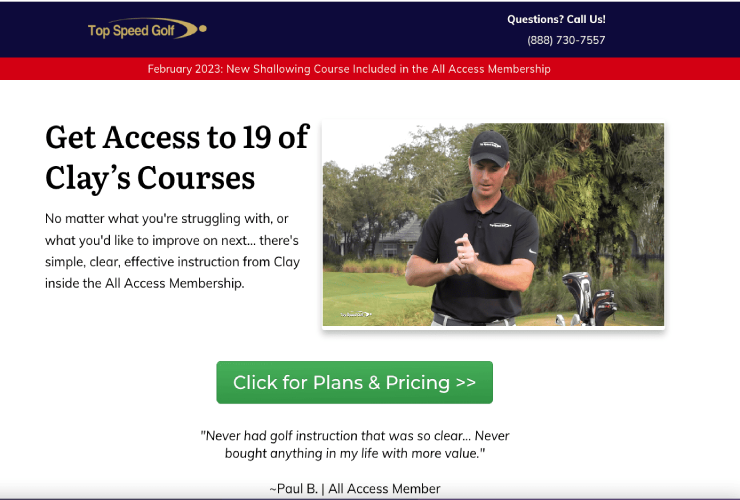 University of Michigan | University Courses
Looking to grow online courses for your academic institution? The University of Michigan provides a stellar example with LearnDash.
Through an expert LearnDash development firm, the Center for Socially Engaged Design built a robust eLearning platform.
LearnDash allows them to offer multiple courses that teach critical skills like global competency and social impact design.
As their program expanded, LearnDash's flexible codebase enabled custom add-ons to meet their specific needs.
For academic institutions, LearnDash provides the tools to create high-quality, scalable online learning experiences.
The University of Michigan showcases how LearnDash can power and grow online education for universities and colleges.
So if you need to scale online offerings for your school, LearnDash delivers a customizable, enterprise-level LMS solution. Build out certified courses that enrich learning and expand student access.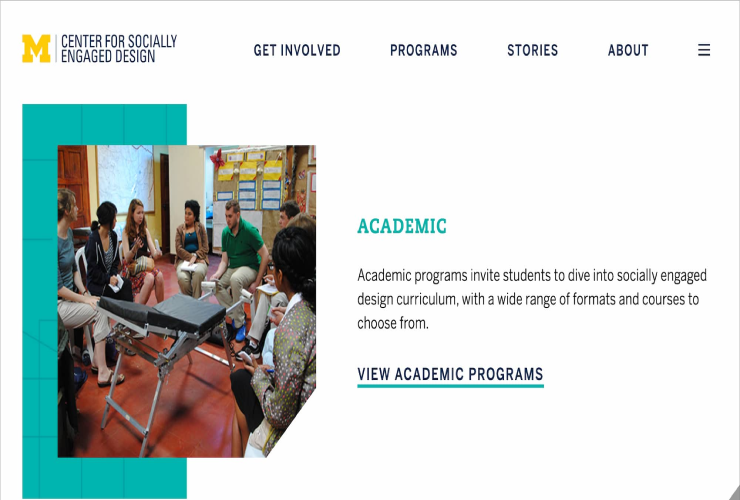 Vetco University
Vetco University provides online veterinary education courses for vets seeking continuing training.
They chose LearnDash as their LMS because it has a sleek design and is compatible with their current plugins. These plugins include Content Form 7, Simple Social Icons, Theme My Login, WordPress Content Uploads, and Google Fonts.
This allowed Vetco to keep its preferred tech stack while gaining a robust course management system. They also utilize AppJS to build mobile web apps without performance loss.
By implementing LearnDash, Vetco University can easily create engaging vet training content while still leveraging its customized WordPress platform.
For niche course providers like Vetco, LearnDash integrates smoothly into existing workflows. It brings enterprise-level LMS capabilities without requiring new systems or coding expertise.

Yoast Academy | SEO Courses
If you use WordPress, you're likely familiar with the popular Yoast SEO plugin. To share their expertise further, Yoast created the Yoast Academy online courses powered by LearnDash.
As a fellow WordPress user, explore their free and premium SEO training to see an excellent real-world LearnDash implementation.
With LearnDash's handy access settings, Yoast Academy can require registration for free courses and enable recurring access for paid memberships.
This flexibility allows them to mix free and premium course content seamlessly under one learning hub.
Yoast Academy shows WordPress site owners how to use LearnDash to create online courses from their SEO knowledge.
If you want to teach others online with lessons and training, LearnDash can help you make and grow your education site.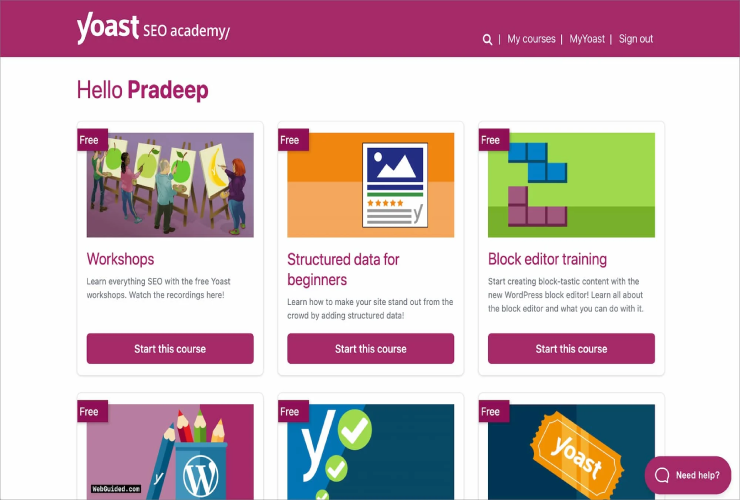 Want to Build Your Own Customized Online Courses?
The examples in this post demonstrate the immense possibilities unlocked by LearnDash. However, implementing a polished course platform takes skill and experience.
That's where TeknoFlair comes in!
Our expert LearnDash developers can help you design and build a tailored online academy aligned with your brand, goals, and strengths. We handle the technical complexity so you can focus on creating transformative educational experiences.
Whether you want to monetize your expertise through premium courses or consolidate internal training, we make LearnDash work for you.
Let's explore how the learndash experts at TeknoFlair can help bring your online course vision to life!
Frequently Asked Questions
Which companies use LearnDash?
All kinds of companies and organizations use LearnDash to run their online courses and training.
Some examples of good courses are Yoast Academy's SEO course, My Study Series for exams, and PerfectMyMusic.
Even major universities and Fortune 500 companies leverage LearnDash as their LMS solution. So, it really runs the gamut, from small startups to global enterprises.
How many people use LearnDash?
LearnDash is hugely popular in the e-learning space! It powers over 100,000 websites. That's a ton of online courses and training portals powered by LearnDash.
It also keeps growing as more businesses move their education offerings online. No wonder LearnDash continues to lead the pack when it comes to LMS solutions.
Is LearnDash an LMS?
It sure is! LearnDash is a WordPress LMS plugin that transforms any WordPress site into a full-featured Learning Management System. It lets you do all the main things in an LMS, like make courses, teach lessons, test students, etc. So you can use it to create comprehensive online courses, coaching programs, training portals, and more.
Is LearnDash the best LMS?
Many LMS platforms are very good! Different people have different views on which one is "the best."
According to the eLearning Industry's 2023 rankings, Docebo took the top spot for best LMS overall. However, the right LMS really depends on your specific use case and needs. Find out what different choices offer and pick the best one for your goals and audience.
LearnDash is certainly a very popular choice used by all kinds of businesses and organizations.
But explore all your options before deciding on the best LMS for your needs.
Key Takeaways
LearnDash enables creators, entrepreneurs, businesses, universities, and organizations to build customized online courses, memberships, and training portals.
It scales from solo creators to major academies and global enterprises due to its versatile features.
The smart implementation of LearnDash aligns with a brand's strengths and goals to create owned, engaging learning experiences that monetize expertise.
I am a professional copywriter helping businesses transform into brands using creative wordsmithery with a dash of rhetoric and creativity.