Converting into a multilingual WordPress website is one of the best marketing approaches that you can adopt. Not everyone in the world understands the English language. The ecosystem of the internet is divided into many languages.
Businesses try to provide their products and services to the world in a simple and easy manner. A multilingual WordPress website can become a positive narrative for their customers because it can be helpful for customers to understand their content in their native language.
How to set up a multilingual WordPress Website
Neil Patel, New York's best selling author, and an SEO expert increased his search traffic by 47% by converting his blog into 82 languages. It can be very beneficial for WordPress websites to convert their content into other languages to create more reach around the world.
There are many ways through which a WordPress website can transform into a multilingual site. Although there are automated ways to translate your website, we recommend making all your translations manually.
Translating your WordPress Website manually using human resources will ensure the quality of content which auto translate plugins can never provide.
There are many plugins which set up an interface to convert your content into other languages. For this blog, we have chosen Polylang.
Polylang
Polylang requires PHP5 and WordPress 3.1 or higher to activate on your WordPress Website. It has more than 400,000 active users and is tested by to 5.0.3 WordPress Version. It allows the user to create a Bilingual or multilingual WordPress site.
[Tweet "Polylang has the highest number of active installations among multilingual plugins. And best of all its free."]
Step-1
The first step you need to do is go the plugins section of your dashboard. Click on the add new tab and in the search box on the right enter Polylang. Click install and activate the plugin.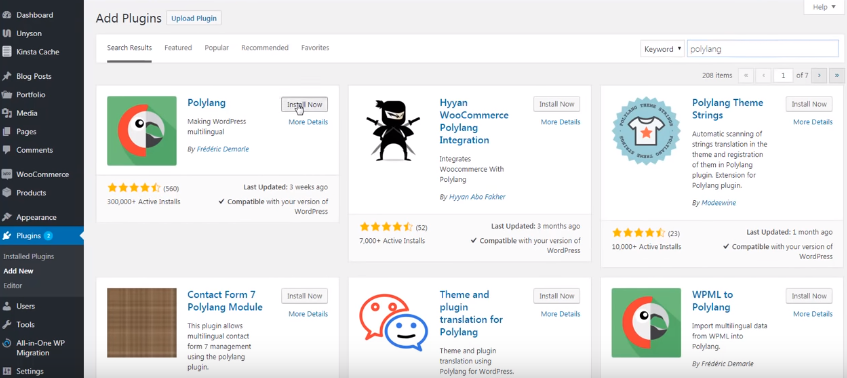 After activating the plugin enter the settings section. Firstly you have to add the default language, going to Languages under setting on the dashboard.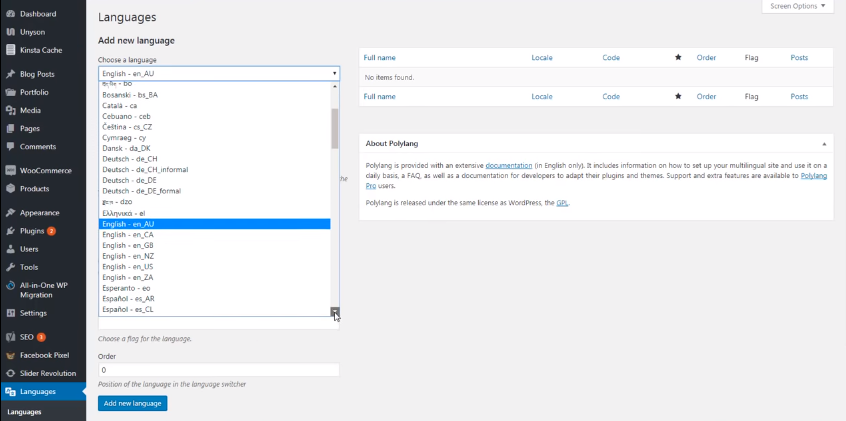 Step-2
Secondly, you will be alerted that some posts or pages don't have a default language allocated.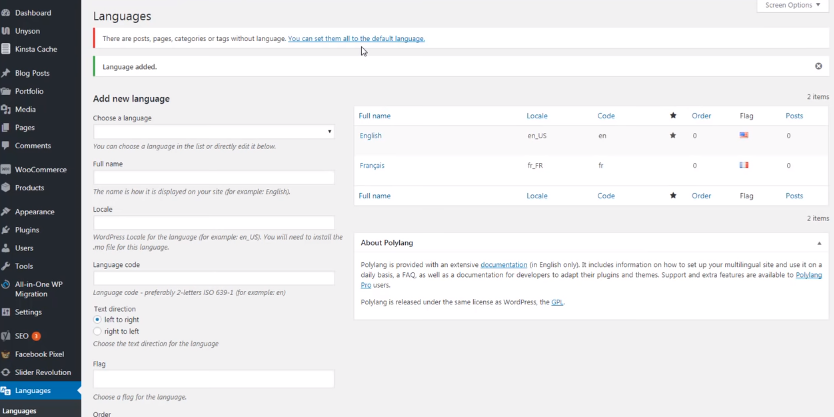 You will resolve the issue by allocating languages to all your posts. You will first have to add the default language that is English. Next, add additional language which you desire.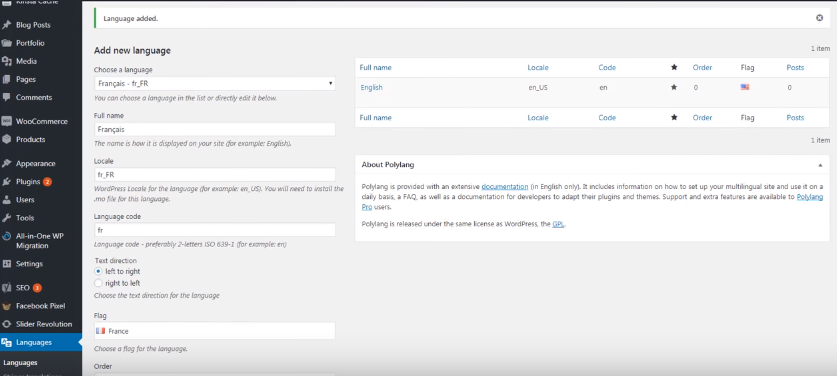 Step-3
After selecting your languages go to your blog post section. The tick in the column means that the post is set up as that language. Clicking the plus will create a corresponding post in the language that you want your content to translate into.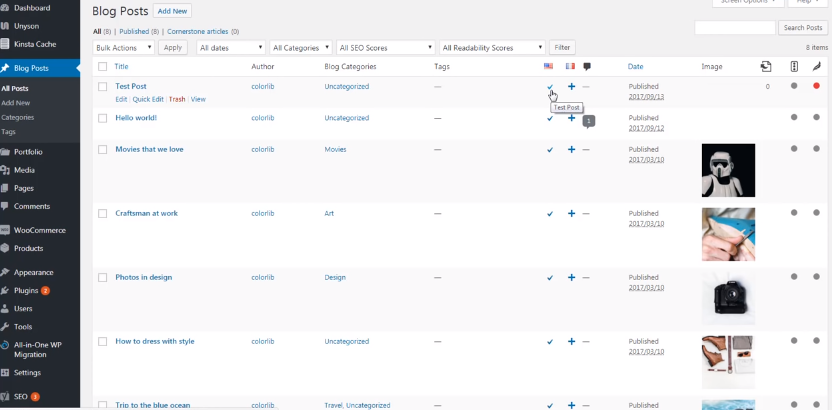 Step-4
You will click the plus and enter the post editor where you can add the same post in your desired language. The language shown on the right sidebar identifies what language you are currently translating your post into.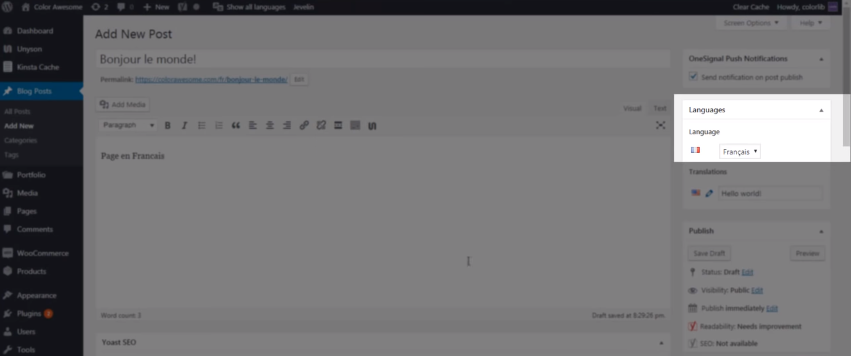 Step-5
Lastly, Polylang also allows you to translate your categories and menus into another language. You can go through your menus and create another version of the language that you have chosen.
You can create a translated version for all your pages and blog posts so that your entire website will transform into the other languages of your choice. Continue the same process to add more languages to make it into a multilingual WordPress website.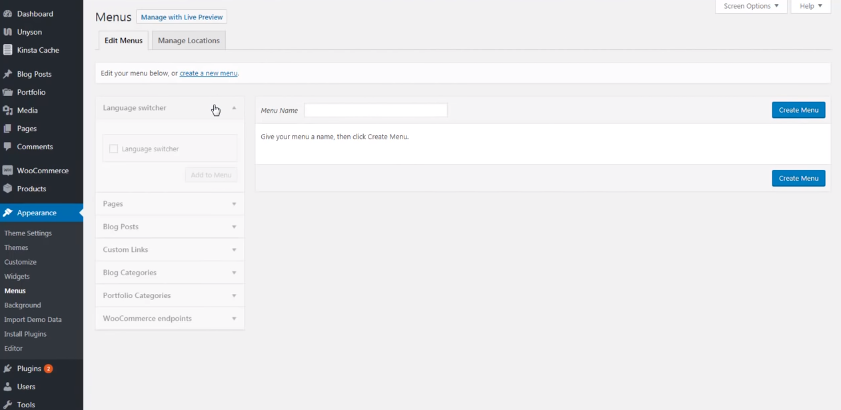 You can utilize the Polylang widget to give your users the option to switch to the language of their choice.
There are also alternative plugins which provide different ways to translate and manage a multilingual WordPress website.
Most WordPress users still prefer to use the Google Website translator plugin on their websites which is easy and requires no extra work.
Multisite Language Switcher is a simple, powerful and easy plugin that can add multilingual support to a WordPress multisite installation.
WPML is a premium service. It makes very easy to create a multilingual WordPress site and run them. It is stable, reliable and secure with more than million sites using it.
WordPress Translation Services
Due to time constraints and lack of knowledge of other languages, it is very difficult for an entrepreneur to translate their content into other languages. Many websites like to outsource their work to achieve excellent translations. There are many services which offer translations for WordPress Websites.
One Hour Translation is the worlds largest online translation agency. With more than 25000 plus professional translators for more than 100 languages. They charge $0.087 for their general content translation.  
Gengo is a platform where a community of professional translators provides a cost-effective translation. Their standard price per word is $0.06.  
Benefits of a Multilingual website
udience. Your content will also rank better on google. It will become more beneficial for their businesses.  
Increase in an Organic audience
Improving SEO
Expansion of business
Increase in an organic audience
A multilingual WordPress website will create more organic growth, as users will be able to access the content of the site in their native language. Businesses will be able to create new customers.
Improving SEO
Google will automatically index a multilingual website's additional languages as separate content. The SEO of your site will improve significantly because it will create more content in the search engine.
Expansion of business.
Setting up a multilingual WordPress website will assist the business to expand across the world. Entrepreneurs will have a global reach. Setting up a multilingual WordPress website is ideal for businesses when they're looking to expand to non-English speaking nations.
Setting up a multilingual website can have multiple drawbacks such as being very expensive or the inaccuracies of automatic translations.
Quality of translation
Pricey
Time Consuming
Quality of translation
Many multilingual WordPress websites create low-quality translations for their content. The below average translation will create a negative effect on the businesses.
Pricey
There are many premium translator plugins which can be very costly for the website. Using the help of translator services frequently can also become very pricey.
Time Consuming
To set up a multilingual WordPress Website can be a time-consuming process. Websites have to create a separate post for their blog and pages, which can be very difficult to manage.
Having a multilingual WordPress website is a good way to increase organic traffic, but it is a tricky step. Not every automatic plugin will give the websites the desired results. It can become a very complicated process for some businesses, as a multilingual WordPress website requires adding multiple languages to the site.
Although drawbacks of a multilingual WordPress website exists yet benefits of setting them up can definitely create a significant difference.
If you enjoyed the blog and found the details within helpful please do let us know and don't forget to check out our services at wpengineers.com. We provide WordPress website maintenance and support services.